Complimentary COVID-19 Safety Posters
08/07/2020 Posted on August 7, 2020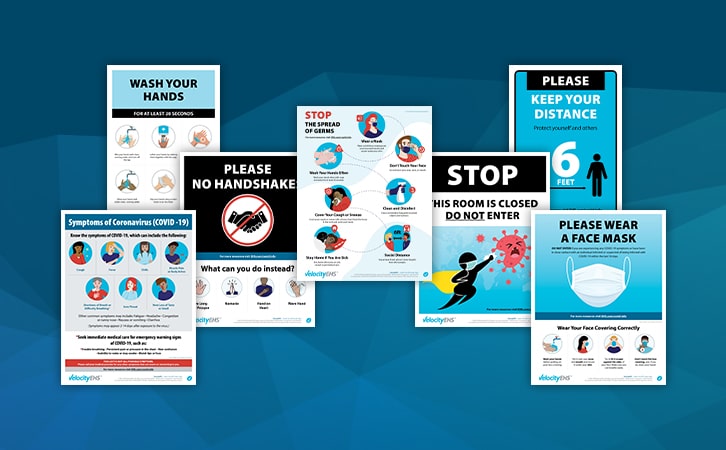 Colorful COVID-19 safety posters developed just for you! Whether you've been operating throughout the pandemic or are preparing to return to work, these posters will help remind and inform your employees about proper COVID-19 prevention etiquette. Hang them in strategic places around the workplace to encourage workers to follow company policies, while also keeping them safe and healthy.
Please Wear a Face Mask

– Prompts employees to wear a face mask and demonstrates how to properly cover the face

Stop the Spread of Germs

–

S

ummar

izes

how to

prevent the spread of germs

Wash Your Hands

–

E

ncourage

s

suitable hand washing practices

Symptoms of Coronavirus

–

Reminds

employees

to be self-aware

Please Keep Your Distance

–

P

romote

s

social distancing

Stop: Room Closed

–

I

ndicates a room that

is

off-limits

Please No Handshakes

–

O

ffers great alternatives to shaking hands

, like waving or using a simple "namaste" gesture.
Every organization most certainly has its own set of rules and guidelines around covid. Training employees to fully understand what is expected of them is one of first steps in continuing operations throughout the pandemic or beginning the return to work process, and a one-time training effort will not suffice. Like many safety protocols, it is important to do it often and remind employees how to stop the spread of COVID-19. Posters are great way to remind your team of what you've trained them on and how to remain safe. And the timing is great, you can use these posters to help your company take part in OSHA's National Safe + Sound Week, which launches August 10.
Download these posters today to pr
ovid
e
simple
,
yet effective
,
reminders on s
afety protocol
s.
For more resources on COVID-19 and the workplace, visit EHS.com/covid-info. To learn how VelocityEHS solutions can assist you during the pandemic and beyond, check out our quick sheet "VelocityEHS Solutions for Today's EHS Challenges".