HazCom & WHMIS Updates: U.S. and Canada Publish RCC Work Plans for 2019-2020
03/12/2020 Posted on March 12, 2020 | in Safety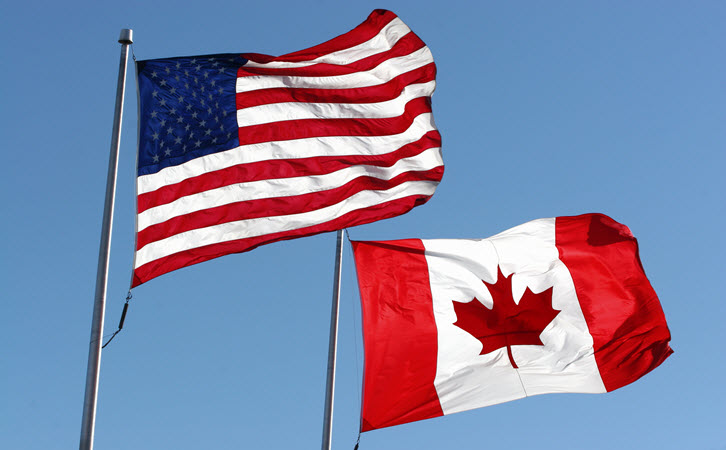 On March 10, 2020 the U.S.–Canadian Regulatory Cooperation Council (RCC) published its 2019-2020 work plans. These work plans introduce the specific initiatives that the RCC will pursue over the coming year to promote further alignment between U.S. and Canadian health, safety and environmental regulations.
The 2019-2020 RCC work plans will specifically focus on continued alignment of:
Let's take a few moments to focus specifically on RCC work plans for hazard communication to gain a better understanding of how potential changes could impact hazardous chemical users and suppliers in both the U.S. and Canada.
Focus on GHS Alignment
One of the RCC's key objectives is to ensure strong alignment between Canadian and U.S. hazard communication requirements, and the UN's Globally Harmonized System of Classification and Labelling of Chemicals (GHS). The goal of this continued alignment is to further reduce regulatory burdens for affected employers, and provide increasingly consistent and accurate chemical hazard information in order to better protect workers.
The UN publishes a new revision of GHS every two years, and as the U.S. and Canada continue to integrate these changes into their respective hazard communication regulations, alignment between the two will surely be an ongoing effort.
Currently, OSHA's Hazard Communication Standard is aligned with Revision 3 of the GHS, while Health Canada's Hazardous Products Regulations (HPR) and WHMIS are aligned with GHS Revision 5. As a result, there are subtle differences between how each nation regulates hazardous chemicals, including how chemical hazards are classified. This can create conflicts between GHS hazard information in each country, including safety data sheets (SDSs) and chemical container labels.
Adding to this confusion is the fact that OSHA intends to re-align its HazCom Standard with GHS Revision 7 sometime during 2021. Revision 7 includes several changes and additions to hazard classes and other hazard communication elements found on SDSs and labels. Such changes could result in further inconsistencies between U.S. and Canadian requirements. Fortunately, the RCC is actively working to resolve these potential conflicts before they can impact U.S. and Canadian workplaces.
2019-2020 Work Plan Elements
The RCC work plan lists several specific initiatives aimed at promoting alignment between U.S. and Canada's hazard communication requirements. These are:
Developing Continued Guidance for Stakeholders
OSHA and Health Canada issued a series of guidance documents in August 2019 to help covered workplaces reconcile differences between the two countries' hazard communication requirements. For 2020, the RCC seeks to continue consultation with stakeholders throughout the year to identify any gaps and publish additional guidance as needed.
Coordinate Common Stakeholder Positions Ahead of UNSCEGHS Meetings
OSHA and Health Canada will continue to host bi-annual public meetings to solicit feedback from industry and other stakeholders on hazard communication topics, and represent that stakeholder feedback to the international community during meetings of the UN Sub-committee of Experts on the GHS (UNSCEGHS).
Maintain alignment on the implementation of the GHS
OSHA and Health Canada will continue to work with stakeholders to identify variances between HazCom and WHMIS requirements, evaluate the impact of those variances, and minimize or eliminate them. The ultimate goal of the RCC is to establish requirements that allow for a single label and SDS, where possible, that would be acceptable in both countries and still provide the highest possible level of safety and protection for workers.
Preparing for the Future
If your business is covered under HazCom, WHMIS or both, it's always a good idea to stay up-to-date with current and potential future changes so you can anticipate your regulatory obligations and implement the policies, processes and personnel necessary for compliance.
A great way to stay up-to-date is to attend and participate in OSHA/Health Canada/RCC public meetings. OSHA hosts bi-annual meetings ahead of each UNSCEGHS session to discuss current hazard communication topics, and gather stakeholder feedback on proposed changes to the GHS. These meetings are free and open to everyone, and information on how to attend can be found at OSHA's International Programs page.
The RCC also holds periodic meetings to discuss its continuing efforts towards alignment. RCC meetings often coincide with the Spring and Fall meetings of the Society for Chemical Hazard Communication (SCHC). Unfortunately, meetings are only open to SCHC members but as a member, VelocityEHS regularly attends these stakeholder meetings to represent the interests and questions of our customers, and to report back on emerging developments. For the latest SCHC meeting updates, be sure to subscribe to the MSDSonline Blog.
VelocityEHS Can Help!
When it comes to chemical hazard communication, VelocityEHS is the industry leader. Our award-winning MSDSonline chemical management solutions have helped more than 18,000 customers and 10 million users around the globe to simplify compliance and maintain workplace safety, while our in-house team of EHS experts is dedicated to keeping our customers at the leading edge of hazard communication regulations and EHS best practices.
To see for yourself how VelocityEHS can help you simplify compliance with HazCom, WHMIS and other global GHS-aligned hazard communication standards, Request a Demo today or give us a call at 1.888.362.2007