VelocityEHS Offers HazCom Support for Emergency Responders, Businesses and Others Affected by Hurricane Dorian
09/04/2019 Posted on September 4, 2019 | in Safety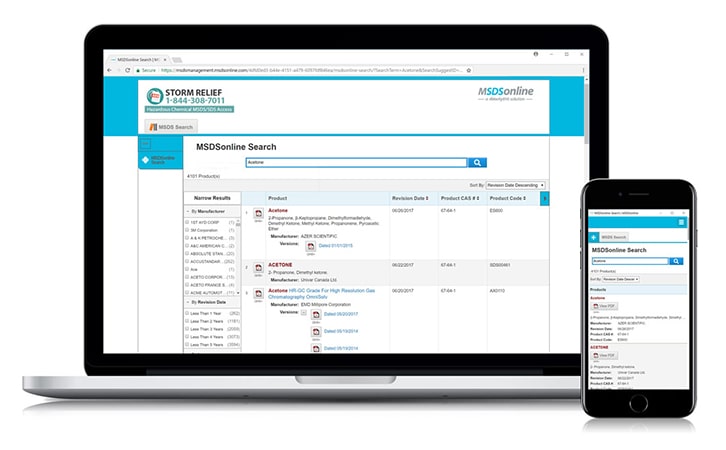 VelocityEHS will once again provide disaster relief to organizations, emergency responders and local businesses affected by Hurricane Dorian through access to its VelocityEHS safety data sheet (SDS) library at no cost.
For a limited time, all customers and non-customers located in the storm's path can visit www.EHS.com/disaster and search through the millions of safety data sheets in the VelocityEHS database to locate critical safety information for hazardous chemicals released during the storm. A dedicated toll-free telephone number (1-844-308-7011) has also been set up to help those who need a safety data sheet, but don't currently have internet access.
Safety data sheets provide hazardous chemical users with accurate information about the health and environmental risks associated with those substances. While OSHA requires facilities to have these SDS documents, containing chemical hazard and safe handling information, accessible to workers during their work shifts, and a common practice is to amass these SDSs in paper binders only, making them potentially inaccessible in the event of evacuations and flooding. Without the information from these SDSs, it's impossible to understand the full impact of any releases involving the chemicals to which they pertain on the surrounding community, nor how to safely approach a clean-up process where they are present.
Since initially launched in 2017, the Hazardous Chemical MSDS/SDS Access program has provided faster, easier access to critical chemical safety information to hundreds of businesses and relief organizations affected by major natural disasters. Through the aid of our mobile-optimized, industry-leading database of MSDSs and SDSs, more first responders, businesses, facilities and organizations are able to better protect their communities from any additional hazardous health repercussions.
Visit www.EHS.com/disaster to learn more.