Preparing Your Workplace for an OSHA Inspection
06/11/2019 Posted on June 11, 2019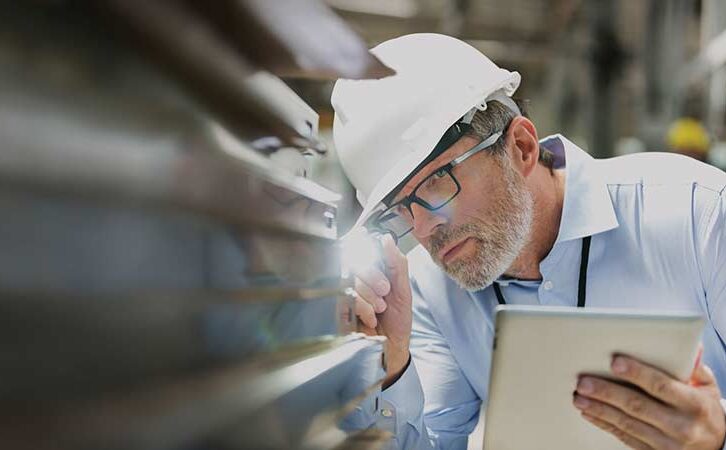 If you've ever been through an OSHA inspection in your workplace, you already know how stressful a situation it can be. During an inspection, OSHA's certified safety and health officers (CSHOs) will examine your work site, health and safety management programs, employees, records and other health and safety-related documents with a high degree of scrutiny. The only way to ensure you're prepared and fully minimize your risk of non-compliance is to maintain that same rigorous attention to detail.
Therefore, it's important that you have a systematic way of evaluating your people, processes, policies and other aspects of compliance to prepare your workplace for an OSHA inspection. A helpful tool to get you started with this is an inspection preparation checklist. With a thorough and detailed inspection preparation checklist in hand, you'll have the ability to inventory the required elements for compliance, and clearly identify any gaps so they can be quickly and effectively addressed.
That's why VelocityEHS has developed our OSHA Inspection Preparation Checklist. It's a detailed guide to help you successfully navigate the OSHA inspection process, and make sure you've got the necessary elements in-place to minimize your compliance risk should an OSHA inspector come knocking.
Click Here to Download the OSHA Inspection Preparation Checklist!
The State of OSHA Enforcement
Over the years, OSHA has steadily increased its commitment to partnering with employers to help protect workers, and to promote voluntary compliance with workplace health and safety standards. Despite the broad success of these partnerships, traditional enforcement tactics such as workplace inspections, citations and penalties remain the Agency's most potent tool for compelling employers to comply with OSHA standards, and maintain the safety and health of their workplaces.
In addition, several recent and troubling trends in occupational injuries and illnesses have prompted the U.S. Department of Labor (DOL) and OSHA to take measures to strengthen the Agency's enforcement programs in an effort to better protect workers. Some of the most notable measures include:
Budget & Personnel Increases
The DOL's 2019 budget allocated $557.2 million in funding for OSHA, an increase of $5 million over 2018 levels. This was accompanied by a modest uptick in the Agency's enforcement budget, which increased by $1 million over 2018, to $209 million. The Agency also added 33 full-time employees (FTE), the majority of which were newly-hired CSHOs.
For 2020, OSHA's budget is again expected to increase, with the DOL asking Congress for an additional $300,000 over 2019 levels. The proposed FY 2020 Budget also includes a request for $3,780,000 to hire an additional 26 FTE CSHOs.
Increased Penalties
The Federal Civil Penalties Inflation Adjustment Act Improvements Act of 2015 requires each Federal Agency to adjust its civil monetary penalties annually to account for the Consumer Price Index for Urban Consumers (CPI-U), which in October of 2018 was 2.52%. As of April, 2019 CPI-U stood at about 2.0%, so it would be safe to assume an increase in OSHA fines of approximately that amount for 2020.
The chart below shows the 2019 increases for each type of OSHA violation:
| | | | |
| --- | --- | --- | --- |
| Violation Type/Description | CFR Citation | 2018 Maximum Penalty | 2019 Maximum Penalty  |
| Serious | 29 CFR 1903.15(d)(3) | $12,934 | $13,260 |
| Other-than-Serious | 29 CFR 1903.15(d)(4) | $12,934 | $13,260 |
| Willful | 29 CFR 1903.15(d)(1) | $129,336 | $132,598 |
| Repeated | 29 CFR 1903.15(d)(2) | $129,336 | $132,598 |
| Posting Requirement | 29 CFR 1903.15(d)(6) | $12,934 | $13,260 |
| Failure to Abate | 29 CFR 1903.15(d)(5) | $12,934 | $13,260 |
Enforcement Policies
OSHA is continually refining its enforcement policies in an effort to more effectively administer its enforcement programs and better protect workers, but there have been several significant changes within the past few years that may have the greatest potential impact for covered employers throughout the United States.  These include:
DOL & DOJ Cooperation – A 2015 memorandum of understanding (MOU) enshrined a long-standing partnership between the U.S. Department of Labor and Department of Justice to more effectively implement federal workplace standards. Prior to this MOU, penalties for willful violations of OSHA standards that resulted in a worker fatality, giving advance notice of OSHA inspection activity, and providing false documents or statements to OSHA were subject to criminal penalties, but those penalties were not severe (a maximum $10,000 fine and/or 6 months imprisonment) and convictions were quite rare. Under the 2015 MOU, convicted employers may face sentences ranging from 5 to 20 years' incarceration along with significant fines — providing OSHA with a powerful tool to deter and punish workplace safety crimes.
Enforcement Units (EUs) — A separate 2015 memo from OSHA to its regional administrators implemented dramatic changes to the way OSHA CSHOs perform compliance inspections. Prior to these changes, inspectors were required to perform a certain number of inspections within each calendar year. However, this quota system had the unintended consequence of encouraging inspectors to perform a greater number of shorter, more cursory inspections in order to reach their inspection quota. The new Enforcement Unit (EU) system requires CSHOs to complete a certain number of EUs each year, with longer and more complex inspections earning inspectors a higher number of EUs. The purpose of the new policy is to encourage inspectors to perform fewer, more in-depth inspections with the hopes of revealing violations that may have been previously overlooked.
Electronic Recordkeeping & ITA  — In 2016, OSHA implemented its Improve Tracking of Workplace Injuries and Illnesses final rule (a.k.a. the Electronic Reporting Rule) which requires establishments with 250 or more employees, as well as establishments in certain high risk industries with between 20 and 249 employees, to electronically transmit data from their Form 300A summaries to OSHA through its online Injury Tracking Application (ITA). Armed with this new data, OSHA is able to more accurately target inspection and enforcement activities on establishments with the highest rates of injuries and illnesses, and equip the agency to better protect the safety and health of American workers.
Site-Specific Targeting (SST) Programs — Earlier this year, OSHA announced that with 2017-2018 ITA data in-hand, it will resume its Site-Specific Targeting (SST) program. The SST will use ITA data to identify establishments with a Days Away, Restricted or Transferred (DART) rate that is higher than their industry average. Since DART is widely accepted as a reliable indicator for the occurrence of more serious recordable injuries and illnesses, OSHA sees good reason to prioritize inspections of those establishments with elevated rates relative to their peers. Additionally, OSHA has indicated it will be doing random inspections of establishments who reported significantly lower DART rates, to "verify the reliability of the Form 300A data," in the agency's words.
These changes, in addition to OSHA's already numerous enforcement initiatives, directives and emphasis programs, are expected to dramatically improve the efficiency of the Agency's enforcement programs. Together, they will allow OSHA to better prioritize its inspections and enforcement resources on the highest-risk workplaces, and impose more effective penalties on employers for failing to protect workers. If you're an employer, it's more important than ever that you're prepared should an OSHA inspector enter your workplace. If your workplace isn't ready, or if you don't know your rights, your chances of being issued a citation are simply too high.
Let VelocityEHS Help!
In addition to our extensive library of EHS management and compliance resources, VelocityEHS' award-winning software solutions have helped more than 18,000 customers across a wide range of industries to ensure compliance, and more efficiently manage workplace health and safety. Request a Demo today and we'll show you how VelocityEHS can help you!