Put Worker Safety on Firmer Footing with Ladder Safety Training
03/14/2019 Posted on March 14, 2019 | in Safety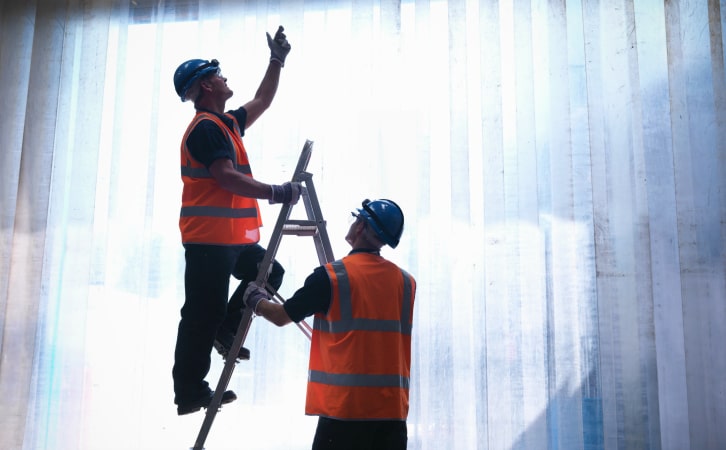 Ladder safety violations pose a common workplace hazard, consistently appearing on OSHA's annual top 10 most frequently cited standards list. It's a widespread and costly problem, but many ladder-related injuries can be prevented with proper training. March is National Ladder Safety Month, so there's no better time to review ladder safety practices in your business. The VelocityEHS Ladder Safety training course – part of our On-Demand Training course library – can help. Read on to learn more.
Workplace Ladder Safety – Key Facts:
The American Ladder Institute reports that workplace falls rank among the top three most disabling workplace injuries and cost $17.1 billion annually.
According to Bureau of Labor Statistics data, falls resulted in more than 227,700 injuries and nearly 900 fatalities in U.S. workplaces during 2017 alone.
Ladder Safety violations ranked number 6 on OSHA's top 10 list for 2018, with more than 2,800 violations.
OSHA penalties for violations of OSHA Standard 1926.1053 (Ladders) totaled more than $6 million from October 2017 through September 2018.
Simplify Safety and Compliance with On-Demand Training
The Ladder Safety On-Demand Training course from VelocityEHS provides training in how to recognize and safeguard against the hazards associated with using ladders on the job. It focuses mostly on portable ladders including step ladders, straight ladders, extension ladders and platform ladders. The course covers:
Selecting the correct ladder for the job
Inspecting and safely setting up ladders
Ascending and descending
Maintenance and proper storage of portable ladders
If you'd like to enroll your workers, click here to contact us or call us at 1.888.362.2007. You can also learn more about the benefits and features of our On-Demand Training solution here.