Lessons from Tianjin: The Disastrous Consequences of Improper Hazardous Chemical Storage
08/14/2018 Posted on August 14, 2018 | in Environmental Compliance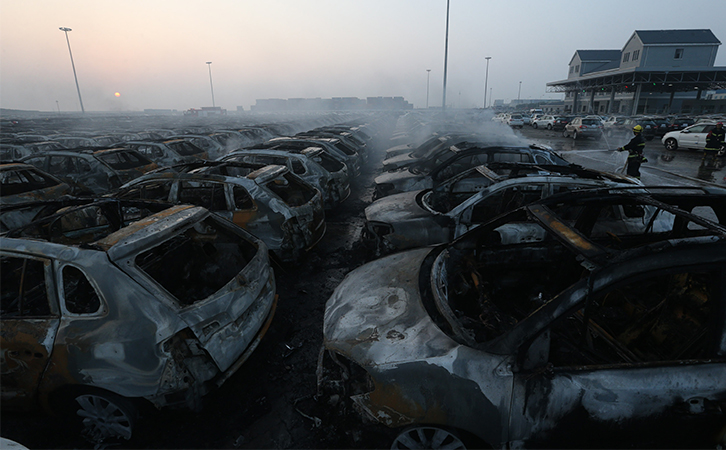 This week marks the third anniversary of the deadly explosions in Tianjin, China. A total of 173 people, including at least 80 firefighters, were killed and nearly 800 others injured when two blasts ripped through a warehouse that was improperly storing hazardous chemicals. As a small fire erupted in the facility, first responders doused the flames with hoses, unaware that it contained calcium carbide, which produces an extremely flammable acetylene gas when mixed with water. Two deafening explosions occurred in quick succession, as the other flammable chemicals stored in the building — including potassium nitrate, ammonium nitrate, sodium nitrate, and as much as 700 tonnes (771.6 U.S. tons) of sodium cyanide — ignited with an estimated explosive energy of 0.45 kilotons of TNT.
The explosions in Tianjin serve as an important reminder of making hazardous chemical safety procedures a priority. An official report into the disaster found 123 people responsible for the explosion — including senior officials —, and determined the cause to be illegal storage of 11,300 tonnes (12,456 U.S. tons) of hazardous chemicals. While here in the U.S., numerous regulations and enforcement policies oversee the manufacturing, distribution, storage and use of hazardous chemicals, risks for such disasters still exist.
So, what can you do help protect your employees and the community from chemical disasters? See below for three crucial steps you can take now.
Know What Hazardous Chemicals Are On Site and Ensure Your Employees Do Too
Under HazCom, it's the employer's responsibility to know all of the hazardous chemicals present in the workplace, and ensure that hazard information is available and communicated to employees in a clear and easily accessible way. And there's a reason for this — employees armed with the necessary chemical information and proper training are more prepared to prevent accidents from occurring and are better equipped to handle any incidents that do occur. Make sure this happens by following the five key HazCom requirements:
Maintain a written plan detailing all aspects of your company's HazCom program, including how chemical information is made available to employees, how and where safety data sheets (SDSs) are kept, and what training efforts are in place to make sure employees know how to properly access and use this information.
Keep an up-to-date chemical inventory list, documenting every hazardous chemical in the workplace (even those not in use), along with their quantities and where they are located.
Retain SDSs for every hazardous chemical in your inventory, and ensure employees have right-to-know access to them.
Ensure all hazardous chemical workplace labels include all key information, such as product identifiers and hazard statements.
Train employees to know and understand the specific chemical hazards they are exposed to in the workplace.
Have a Solid Emergency Prevention and Response Plan in Place
A comprehensive emergency plan should not only outline prevention measures, but also include procedures to follow during and after an event. FEMA recommends the following steps in developing and maintaining a business emergency plan:
Program Management: Identify regulations that establish requirements, and develop and administer your program
Planning: Assess risks, conduct a business impact analysis, and examine ways to prevent hazards and reduce risks
Implementation: Write a preparedness plan addressing areas such as emergency response, incident management, and training
Testing and Exercises: Test and evaluate the plan by developing and conducting exercises to gauge effectiveness
Program Improvement: Identify when the program should be reviewed, determine methods to evaluate it, and use the findings to make necessary improvements
One important, but often overlooked part of disaster planning is identifying and communicating with first responders (local and state agencies) before an incident occurs to make sure they are properly equipped with the information and tools they need. Without this open and active dialogue with all involved parties, the plan is less likely to go smoothly in the event of an emergency.
Know Your Safety Regulations
There are multiple agencies with hazardous chemical oversight in the U.S., including but not limited to OSHA, the EPA, the DOT, and the Department of Homeland Security. Not sure which agency regulations apply to you? Below is a list of some of the most notable ones along with links to more information about each: