The Key Components of Effective Emergency Planning
07/18/2018 Posted on July 18, 2018 | in Safety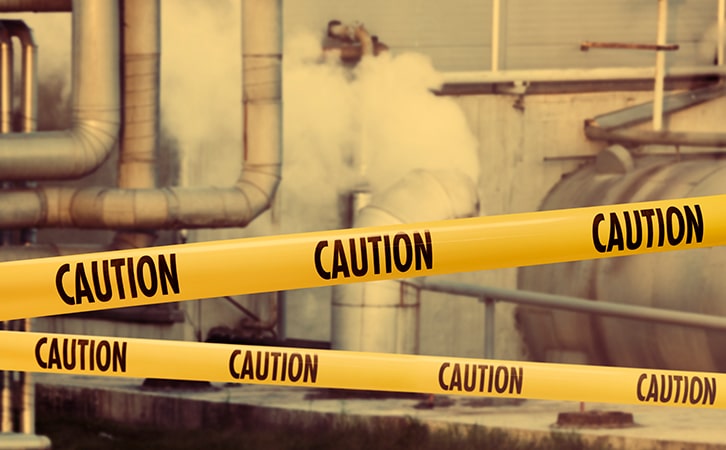 By Phil Molé
Large scale emergencies, such as the flooding that devastated Texas' Gulf Coast during Hurricane Harvey in 2017, are often worsened due to failures in emergency planning that place first responders, workers and the general public at risk for exposure to hazardous chemicals. Incomplete knowledge of the identities and hazards of chemicals on-site, as well as a lack of communication between facility personnel and first responders can compromise incident prevention planning, and undermine response efforts in the event of an emergency. That's why it is critical that your facility's emergency plan identifies and anticipates these gaps in knowledge and communication before they result in a potentially catastrophic accident.
Key Components of Emergency Planning
Chemical Inventory
You can't develop an emergency plan that accounts for the hazardous materials in your inventory if you don't know you have them. Unfortunately, keeping track of chemicals that enter your facility is not always easy. As a first line of defense, ensure that your Purchasing Department has procedures firmly in place to have all planned chemical purchases first reviewed and approved by corporate safety representatives.
Once you know what chemicals are on-site, identify any special planning considerations, especially if any chemicals are extremely hazardous substances (EHSs) as identified in Section 302 of the Emergency Planning and Community Right to Know Act (EPCRA) and on EPA's List of Lists. EHSs stored at or above threshold planning quantities (TPQs) trigger requirements to develop emergency response plans and notify local fire departments, state emergency response commissions (SERCs) and local emergency planning committees (LEPCs). Storage of EHSs may also trigger Tier 2 reporting obligations. These additional requirements highlight the fact that is sometimes best to deny approval of these chemicals, and to remove them or substitute safer alternatives whenever possible.
It's particularly challenging to keep track of chemicals purchased by employees from industrial supply or hardware stores. These materials may not be subject to formal safety review, are generally not accompanied by safety data sheets (SDSs) if bought over the counter, and are often incorrectly perceived to be safe. For example, muriatic acid (the trade name of hydrochloric acid), a highly corrosive substance, is available in many retail stores. You need to identify and assess the risks of such substances if they exist in your inventory.
Frequent inspections are essential to chemical inventory management. Inspect all areas where chemicals are stored and used (looking for materials that may have come in under the radar) and check that all containers are properly labeled. Inspection management software can help ensure that inspections are accurately documented and reported in a timely manner, and that corrective actions are initiated, assigned and verified when completed.
SDS Management
SDSs contain crucial information about the hazards of the chemicals in your facility, their storage and handling precautions, symptoms of exposure, and emergency response considerations. That's why the most important test of your SDS management system is how quickly you can find an SDS when you most need it.
Ensure that your employees know how to access SDSs, and that there are no barriers to retrieval. A good software-based SDS management system provides your entire workforce (including temporary and contract workers), as well as first responders, with quick and easy  access to your workplace-specific library of SDSs —anytime, anywhere, across multiple PC and mobile device platforms.
Maintaining Your Program
The key to successful emergency planning is vigilance. As often as possible, ask yourself:
What chemicals do we have? Where are they stored, and in what kinds of containers?
Are any of our chemicals classified as EHSs?
Have we cross-checked those chemicals against applicable regulatory lists?
What is the worst thing that could happen with those chemicals?
Are we prepared for that worst-case scenario?
Do we have comprehensive plans in place to address the safe handling, storage, transportation, and disposal of these chemicals?
Are our employees trained as well as they should be? How do we know?
Do we know all of the regulatory agencies we need to report to?
Do local and state emergency response agencies know the types and amounts of chemicals on-site?
Have we properly labeled everything, and do we have an SDS for all chemicals?
How quickly can we find an SDS in the event of an emergency?
Are there appropriate hazard controls in place?
Leadership and Communication
Effective emergency planning requires effective communication on several levels: between your company and local emergency responders, between the different individuals on your emergency planning team, and between your emergency planning team and top-level management.
When communicating with local first responders, you'll want to notify them about your company's chemical storage practices and whether or not you're already performing regulatory reporting, such as Tier 2 reporting, and EHS reporting.  You'll want to also provide information to your local fire department about significant new chemical hazards at your site and changes to your storage locations, container types, chemical inventory, and the SDSs in your library, as this helps them respond quickly and safely to emergencies at your facility.
For your emergency planning team, since employees come and go, you will need to have open lines of communication among all the participating members. This will allow you to ensure each person's role and responsibilities can be quickly covered or assumed by other members on the team.
Lastly, when it comes to communication between your emergency planning team and the company's management team, you cannot overestimate the importance of obtaining buy-in and participation. Given that you'll be sharing chemical storage information with emergency responders, and will need to coordinate with them during emergency response planning, you can short-circuit the whole system before it even gets started if you leave the management team out of the loop.
Leveraging Technology
Managing emergency planning can be difficult and time-consuming, but today's software solutions can help. Cloud-based chemical management software makes it easy to maintain a detailed chemical inventory, provide employees with 24/7 access to SDSs, and automatically identify chemicals in your inventory that require emergency planning notifications. Some solutions can even make SDSs available offline and automate Tier 2 report completion, as well as map chemical storage locations onto a virtual floorplan of your facility and seamlessly share mobile-enabled, up-to-date SDSs information with first responders to further simplify their hazard identification and emergency response efforts.
While emergency planning is never perfect, with the right tools, you'll be able to plan for the worst while aspiring toward the best.
+++
Phil Molé, MPH is an EHS & Sustainability Expert at VelocityEHS, the global leader in cloud environment, health, safety (EHS), and sustainability software. To learn more, visit www.EHS.com.