New Verdantix Report Predicts Rapid Growth For Industry-Leading VelocityEHS
06/08/2018 Posted on June 8, 2018 | in EHS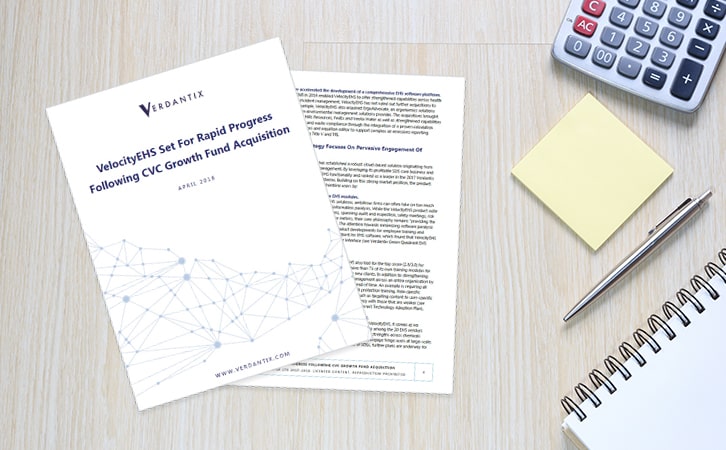 A new report from the Independent Research Firm Verdantix projects VelocityEHS will rapidly grow following its acquisition by CVC Growth Fund, and how the move reaffirms the company's long -term strategy around offering targeted, out-of-the-box solutions for EHS information management.
Download the report, "VelocityEHS Set For Rapid Progress Following CVC Growth Fund Acquisition."
VelocityEHS currently holds a strong market position, ranked as a leader in the 2017 Verdantix Green Quadrant benchmark of EHS software platforms, with a product strategy that aims to engage and retain thousands of users by:
Engaging frontline workers with mobile apps.
While VelocityEHS offers several foundational solutions for incident and inspection-sensitive companies, its mobile capability is the key differentiator that enables users to better engage frontline workers on safer workplace practices.
Investing in the usability of out-of-the-box EHS modules.
VelocityEHS places a strong emphasis on "providing the right tools at the right time to the right customer." The attention towards minimizing software paralysis is reflected in their on-going product developments for employee training and software usability.
Linking EHS workflow to training content.
The VelocityEHS training tools strengthening employee engagement and simplify training management across an entire organization by enabling automated processes for user-specific scheduling ahead of time.
Embedding easy-to-use regulatory workflow into the software.
VelocityEHS tied for best score on the Green Quadrant for management of change. Embedded with easy-to-use regulatory workflows, the VelocityEHS management of change module includes transition processes for chemical, material, equipment, personnel, and is designed to assist with compliance against a variety of regulations, standards and guidelines.
Automating multi-function tasks and schedules beyond the bounds of EHS.
A core benefit of adopting an enterprise-wide EHS software platform is In addition to standardizing firm-wide processes and centralizing EHS information management for cross-functional visibility, the company placed added emphasis on leveraging automation to identify further usage scenarios where software can replace existing spend across diverse EHS services. It anticipates that automation will also support software scalability, such as enabling employees to provide personalized on-boarding processes to a higher number of customers over the same period.
CVC Growth Fund acquired VelocityEHS in late-2017 in one of the largest market transactions in 2017. The acquisition to a privately owned growth fund signals a renewed focus on expansion for VelocityEHS, and the Verdantix analysis suggests that large multinational and mid-market firms seeking affordable, quick- and easy-to-deploy EHS and chemical compliance software should consider VelocityEHS.
The Verdantix report is one in a series covering prominent technology suppliers in the environment, health and safety (EHS) and product stewardship market.