Have Questions about SDSs? Our Sample SDS in the GHS Format is a Great Place to Start!
03/09/2017 Posted on March 9, 2017 | in Health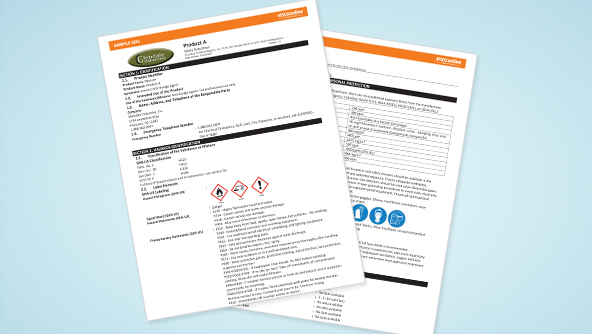 According to OSHA, over 43 million workers in the United States are exposed to hazardous chemicals in the workplace each year. Employers are responsible for providing these workers with barrier-free access to safety data sheets (SDS) — in their work areas, during their work hours — for every hazardous chemical kept on-site.
OSHA's alignment of its HazCom Standard with GHS was completed on June 1, 2016. Under this alignment, safety data sheets are reformatted to follow a strictly ordered 16-section design. The 16 required sections are:
1.            Identification
2.            Hazard(s) Identification
3.            Composition/Ingredient Information
4.            First-Aid Measures
5.            Fire-Fighting Measures
6.            Accidental Release Measures
7.            Handling and Storage
8.            Exposure Control/Personal Protection
9.            Physical & Chemical Properties
10.          Stability & Reactivity
11.          Toxicological Information
12.          Ecological Information
13.          Disposal Considerations
14.          Transport Information
15.          Regulatory Information
16.          Other Information
The advantage of making this order consistent becomes clear when employees need to look up something quickly, as is often the case during an emergency. For example, if an employee needs to find information about first-aid measures, he or she knows to always look in Section 4 of the safety data sheet.
Though the name is changed (from MSDS to SDS) under GHS alignment, the purpose of the document remains the same. A safety data sheet still serves as the linchpin of a hazard communication program. It provides your employees with comprehensive safety information about hazardous chemicals, assists in chemical inventory management, and connects the dots to workplace container labels and other warnings in the workplace.
Although GHS alignment is already the law in the United States — and currently being phased-in in Canada under WHMIS 2015 — some workplaces are still unsure if their safety data sheets are GHS aligned.
If you have concerns or questions about safety data sheet compliance, a great place to start is with our free sample GHS aligned SDS, which can be downloaded here. It can help you and your employees become more familiar with the GHS aligned format for safety data sheets.
For more information about how our award-winning solutions help employers meet hazardous chemical management requirements under GHS alignment, contact us at 1.888.362.2007 or visit MSDSonline.com and click the "Contact Us" button on our homepage.