Formaldehyde Safety Tips & Health Hazards from the SDS
06/22/2016 Posted on June 22, 2016 | in Safety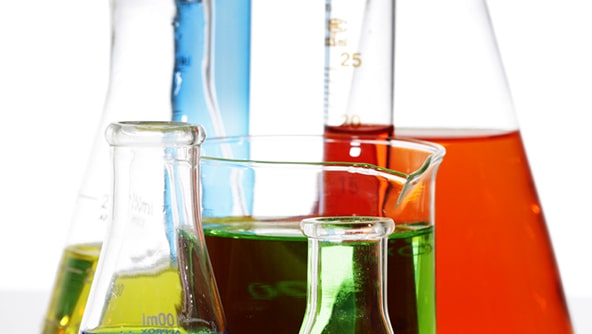 Formaldehyde is a toxic chemical with a strong, pungent odor and a variety of associated health hazards. This chemical, which is used in the production of many materials, has a wide variety of applications across several industries. Formaldehyde is used to create resins, adhesives for plywood and carpeting, paper products, insulation, polyurethane, paints, and more. Due to its toxicity and its status as a known carcinogen, it's important to take caution when using formaldehyde products. OSHA has a substance-specific standard to protect employees from overexposure to formaldehyde (for more information, see the Formaldehyde Standard). Read on to learn more about this chemical's potential health hazards and safety information.
Formaldehyde can lead to several negative health effects, both acute and chronic. It is very hazardous in case of ingestion or eye contact, and can also be hazardous if it comes into contact with the skin. As a known carcinogen, overexposure to formaldehyde has been linked to sinonasal and nasopharyngeal cancers, as well as myeloid leukemia.
People who are exposed to formaldehyde in the workplace are most at risk for these health hazards. This chemical is commonly used in nail salons and as a cleaning agent in hospitals. Formaldehyde exposure can also happen in offices and newly constructed homes via off-gas from wood products, paints and finishes, and cigarette smoke.
Acute exposure to formaldehyde can have a corrosive effect on the respiratory tract, gastrointestinal system, and skin. It can cause irreversible eye damage in instances of severe overexposure. Formaldehyde is also flammable.
When handling formaldehyde in the workplace, we recommend that you wear safety glasses, gloves, and an approved vapor respirator. Work environments should be equipped with adequate ventilation, eyewash stations, and safety showers. In the event of exposure to formaldehyde, follow these first aid guidelines:
Inhalation—Seek fresh air and immediate medical attention. If breathing is difficult, administer oxygen. If victim is not breathing, give artificial respiration.
Eye Contact—Immediately flush eyes with plenty of water to prevent further damage, and seek medical attention.
Skin Contact—Immediately flush affected area with plenty of water. Remove contaminated clothing. Get medical attention.
Ingestion—Do NOT induce vomiting. Never give anything by mouth to an unconscious person. Loosen tight clothing and seek medical attention immediately.
Store formaldehyde and products containing formaldehyde in a secure, dry, well-ventilated area away from sources of heat and flame. Keep container tightly closed. This chemical must be disposed of in accordance with federal, state, and local environmental control regulations.
The steps above are general guidelines. For exact safety information and emergency response procedures, review the supplier-specific safety data sheet for any product or chemical you use.
Search MSDSonline.com for safety data sheets on formaldehyde.