New Silica Rule Has Implications for SDS Authoring, Workplace Signage
04/01/2016 Posted on April 1, 2016 | in Health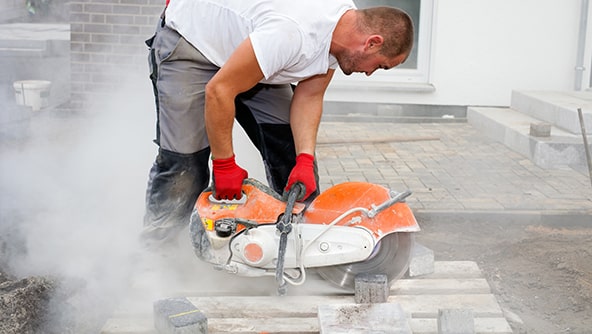 As industry experts begin to analyze the new  1700+ page respirable crystalline silica PEL rule released by OSHA late last week, it's becoming clear that the expansive nature of the rule will result in new responsibilities for workplaces. Two of the largest involve revised safety data sheets (SDSs) and required workplace signage. The new rule also strongly hints at which industries can expect the most scrutiny during OSHA enforcement.
SDS Requirements
The new rule says the tightened PELs (50 µg/m3) for respirable crystalline silica will need to be reflected on SDSs, meaning that current SDSs will need to be updated or replaced. Specifically, the new requirements and engineering controls created by the rule will need to be listed on Section 8 of the SDS under "Exposure Control/Personal Protection." (As you'll recall, OSHA's adoption of GHS under HazCom 2012 means that safety data sheets now have a set format with 16 sections, always in the same order, making it easy to find this information no matter who the supplier of the product is.) Employers need to be prepared to provide employees with access to these updated SDSs when they become available. For the construction industry, this will be as soon as June 23, 2017, which is when the new rule goes into effect.
With most hazardous substances, an SDS is typically sent downstream by the manufacturers and/or distributors to the end-users of the substance. However, the flow of documentation can sometimes be a bit tricky for respirable crystalline silica.
When suppliers ship materials like quartz, tridymite, and cristobalite in forms intended for use in a way that will produce respirable crystalline silica — for example, blocks of raw quartz for cutting into smaller pieces — they are responsible for including the SDSs with those materials. However, suppliers aren't required to send SDSs with these same substances when they're not intended to be used in a way that will produce the respirable silica-dust (e.g. a finished quartz statue). Thus, end-users whose processes involve cutting, drilling, grinding, blasting or otherwise generating respirable particles from raw materials composed of the silica, should look upstream for updated SDSs. Where the need for an SDS and process for receiving it gets tricky, is when end-users find themselves creating silica dust in processes outside of the suppliers' intended use of the materials. In these instances, end-users will be responsible for going upstream to request the SDSs.
OSHA requires that manufacturers and importers provide end-users with updated safety data sheets with the first shipments taking place after safety data sheets are updated. This is also true for shipments of materials like quartz when the intended use results in respirable crystalline silica.
OSHA has set up a series of staggered compliance deadlines for this new rule. Employers in the construction industry have until June 23, 2017 to comply, and General and Shipyard industries have until June 23, 2018. A special extension is provided for hydraulic fracturing operations, which also have until June 23, 2018 — except for engineering controls in that industry, which are exempt until June 23, 2021.
If you're a manufacturer whose products create respirable crystalline silica, you'll need to produce a new, updated safety data sheet and get it to the downstream users of your products by the new deadlines. You also need to obtain or possibly author an updated SDS if your workplace creates respirable crystalline silica, but you don't receive SDSs from upstream.  (In either case, VelocityEHS can help! Our trained, certified authoring professionals can create and update SDSs quickly and accurately. Click here to learn more or request a quote.)
Workplace Signage
Also contained in the new silica rule is a requirement for signage to be present in situations where employers need to "limit employee access to areas where exposure to respirable crystalline silica exceeds the PEL." In the rule, OSHA spells out their reasoning behind this signage requirement, and also exactly what the sign(s) must say:
"With respect to the requirement for warning signs at entrances to regulated areas [. . .] Employees must recognize when they are entering a regulated area, and understand the hazards associated with the area, as well as the need for respiratory protection. Signs are an effective means of accomplishing these objectives. Therefore, OSHA has included a requirement that employers are obligated to post all entrances to regulated areas with signs that bear the following legend:
DANGER
RESPIRABLE CRYSTALLINE SILICA
MAY CAUSE CANCER
CAUSES DAMAGE TO LUNGS
WEAR RESPIRATORY PROTECTION IN THIS AREA
AUTHORIZED PERSONNEL ONLY"
OSHA specifically advises employers with regulated areas to budget about $67 for signage per regulated area within their workplace. (Remember: employees can still enter regulated areas and stay in compliance with the new rule, but employers must provide those employees with appropriate PPE, including respirators.)
Industries Impacted
While the new rule will be applied wherever crystalline silica is found, there are certain industries that can expect to be more largely impacted. Reading over the new rule, it's clear that these will include:
Sand and gravel
Construction
Mining
Maritime
Cement production
Metal production
Hydraulic fracturing
Abrasive blasting
Brick manufacturing
Asphalt paving
China and ceramic manufacturing
Tool and die work
Steel and foundry work
Work involving abrasives, adhesives, paints and coatings, soaps, glass, tile, or clay
Dental laboratories
Stone products work
Oil and gas
While OSHA hints these industries can expect to find themselves the subject of most of the agency's scrutiny, any business where workers are cutting, grinding, crushing, or drilling silica-containing materials should be ready to adhere to the new rules.
For more information, you can visit OSHA's webpage about the final rule. Look for more updates as they become available here on this blog.