Empowering Employees to have an Impact on Safety
01/06/2016 Posted on January 6, 2016 | in Safety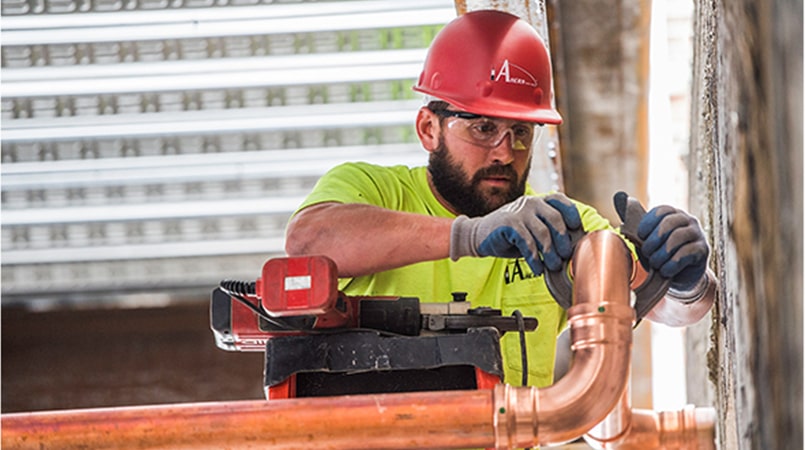 "Everyone can have an impact on safety". You can't spend much time with Dustin Rusch, chief safety officer at J. F. Ahern Co., without hearing those words. Dustin and his team are putting those words into practice with the launch of their safety impact program that encourages all employees to take actions that have a positive impact on safety.
VelocityEHS is thrilled to partner with J. F. Ahern Co., one of the largest specialty contractors in the United States, to help make their safety impact program a success. VelocityEHS and Ahern have worked together to implement a tailored solution to our Incident Management module that helps Ahern document and track safety impact activities. One of the unique elements of the safety impact program is that it does not just focus on negative outcomes (injuries, accidents, etc.) but also focuses on positive actions and events. Documenting these positive actions will serve as an important leading indicator of future safety performance and an improved safety culture.
Ahern has identified several activities that will strengthen their prevention efforts and have a positive impact on safety performance and culture:
1. Engage in a meaningful conversation with an employee to share best practices or identify ways to make their work safer.
2. Recognize and report a near miss event so that the hazard can be addressed before something happens.
3. Implement a stop work intervention if conditions or behaviors are unsafe. Take the time to stop work, discuss the situation, and take actions to improve the situation to avoid a negative outcome before it happens.
4. Identify corrective and preventive actions to help avoid future incidents.
5. Recognize a co-worker for doing something well. Take the time to reward someone for their safety commitment and leadership.
6. Share a safety suggestion for a way to improve workplace safety. Ahern wants their employees to be proactive in thinking of ways to improve safety in the office or at the jobsite.
7. Conduct a safety assessment or walkthrough to identify opportunities for improvement.
8. Manage and control risks associated with change. Proactively identify and analyze the risks of operational change before they occur.
Each employee has a goal to make an impact on safety using these several actions as a framework. Ahern will use VelocityEHS to enhance the program by giving employees a simple tool to document their impact activities. This allows the team to recognize employee efforts and tell a compelling safety story as the company achieves a more predictive and proactive safety culture.
Ahern's safety impact program is a key element of a broader goal to transform safety from just another important program into a strategic business objective. "Safety is the most important thing we do here at J. F. Ahern Co.", reads their program motto.  You can tell after spending just a few minutes with Ahern's team they are all eager to see the benefits as their safety impact program continues to grow.   We here at VelocityEHS are too.