Fall Reminds Us of the Importance of Back to School Chemical Safety
09/18/2015 Posted on September 18, 2015 | in Health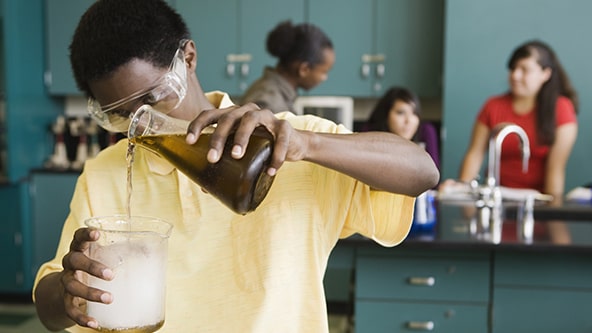 As students across the country head back to school, it's important to understand the kind of complex chemical ecosystem they will face on K-12 and university campuses. In addition to cleaners and maintenance chemicals, these facilities often feature chemical labs with an array of hazards comparable to those found in an industrial setting. And with the onset of GHS, it's more important than ever to ensure that faculty and staff have access to the tools they needs to keep their students, themselves, and their facility safe and compliant.
All too frequently we are reminded that the consequences of failing to do so can be tragic. Sadly, the first weeks back at school can often be the most dangerous.
In early September of last year, several students were injured at a Nevada children's museum when a science demonstration went wrong and resulted in a fire that hurt 13 people. Twelve days after that, four students were injured by chemicals during a science demonstration at a Denver-area high school and required hospitalization. Then just a few weeks after that, three students and an adult were injured during a chemistry demonstration in Raymond, Illinois.
For educators and instructors, using potentially hazardous chemicals for demonstrations can be a vital part of a good science curricula. However, the instructors involved may not be adequately familiar with the safety precautions they need to follow, or know what to do in the case of an accident involving the chemical in question. Likewise, students in proximity to the chemicals are often not adequately protected or required to wear the appropriate PPE.
In addition to being used in classroom demonstrations, chemicals are also present on campuses in other forms. Custodians use powerful chemicals to clean surfaces and remove graffiti. Ground crews use fertilizers to keep landscaping looking good and keep pests away. And many educational institutions have fleet maintenance centers for buses and other vehicles.
In prior years, the U.S. Chemical Safety Board has responded to campus chemical dangers by releasing messages on the need to prevent accidents in science labs, and calling for "better attention to good safety practices." Likewise, industry organizations like the National Science Teachers Association have also released resources intended to bolster safety.
However, while it is never possible to prevent all accidents, perhaps no single safeguard is as effective as ensuing that your campus is in full compliance with the OSHA chemical safety requirements already in place.
According to OSHA, schools of all sizes and types must provide employees with right-to-know access to chemical safety information like safety data sheets. In additional, all workplace containers of hazardous substances must be labeled in accordance with OSHA standards. And every employee on campus — from chemistry PhD's to members of the maintenance crew — must be trained on the chemicals used in their workplaces and to which they are exposed.
On today's wired, 21st century campuses, cloud-based compliance solutions can be the perfect way to provide the access to safety information that schools need to help stay safe and compliant. From providing quick access to chemical information on the chemicals most commonly found in educational environments, to managing and tacking chemicals across multiple campus-wide storage locations, services like VelocityEHS can help educational institutions reduce risk, improve efficiencies at all levels, and ensure their campuses are fully compliant with all OSHA HazCom requirements.
All of which contributes to the real bottom line: keeping everyone from student to staff safe and focused on education.