A Majority of States Now Have OSHA State Plans
08/06/2015 Posted on August 6, 2015 | in Health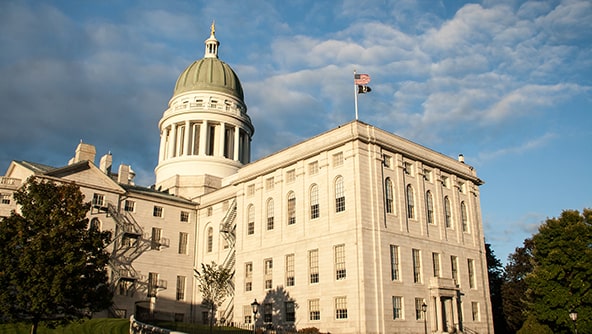 OSHA has approved the launch of a State Plan in the state of Maine, which will be responsible for enforcing safety and health requirements for government employees. This plan becomes effective immediately.
"This is a major milestone for Maine public employees and the state's development of its occupational safety and health program," said OSHA head Dr. David Michaels in a prepared statement. "We applaud them for their ongoing commitment to the well-being of government workers who provide the most vital services that make the state of Maine livable and enjoyable."
With this addition of Maine, a majority of U.S. States (26) now have some form of OSHA-approved state plan. Puerto Rico and the U.S. Virgin Islands also have their own state OSHA plans.
States petitioning to transition to a State Plan are required to follow a multi-stage approval process outlined by OSHA. This process involves 1.) putting a developmental plan in place (which can take up to three years), 2.) application for certification, meaning that the plan is found structurally adequate, 3.) an Operational Status Agreement, which means OSHA agrees to suspend its enforcement and let the state take over, and 4.) final approval, in which OSHA determines — after a year or more of observation — that the state plan is providing worker protection that is "at least as effective" as federal OSHA would provide.
This final point, that a state plan's effectiveness must be at least as effective as federal OSHA, was strongly affirmed earlier this year when OSHA threatened to revoke the status of the Arizona Division of Occupational Safety and Health (ADOSH) — Arizona's state OSHA plan — if it did not correct a fall protection standard that was deemed more lenient (less stringent) than the federal standard. Despite a protracted fight and objections from political heavyweights like Arizona Senator John McCain, the state ultimately moved to correct its fall protection standards to align once again with federal OSHA minimum requirements.
OSHA maintains that State Plans must meet the minimum enforcement requirements of federal OSHA. Unfortunately, that caveat is not always understood by the safety professional operating under State Plans. An example of the confusion that can occur is the reaction of some employers operating under State Plans to federal OSHA's adoption of GHS. Many believed the updates GHS brought to chemical classification, safety data sheets and chemical labels did not apply them — when in fact, each state operating under a state plan was required to also update its hazard communication regulations to account for GHS.
When there are differences between federal OSHA plans and State Plans, it is usually because the State Plan wishes to exceed the requirements of the federal guidelines. A great example are the chemical regulations put in place by Cal OSHA (California's State OSHA Plan) which are among the toughest in the country. Furthermore, because of California's purchasing power, the laws put in place by Cal OSHA often become the defacto law of the land.
Maine's move to a State Plan is part of a growing national trend; however safety managers and employers in that state would be wise to continue to keep an eye on federal OSHA for an idea of what is coming next.