Advancements in Lift Truck Technology
08/05/2014 Posted on August 5, 2014 | in Ergonomics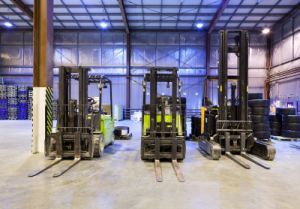 Guest Post by Tom Reddon
Today's forklifts are a mere throwback to the days of old when forklifts from your grandpa's time featured the bare essentials. The future of forklifts is here, and it means increased productivity on a whole new scale for businesses and warehouses.
The Past
The forklift came about due to the need for small and easy transport of materials from one place to the other. The first documented forklift was called the Tructractor and was manufactured by the Clark Company in 1917, according to How Stuff Works. As more and more people saw this machine, they began to place orders. Thus, the precursor to the forklift was born for warehouse and factory use.
The first hydraulic models came on the scene just a few years later to add lifting power and height to these machines. Elevated masts extending beyond the truck's cab were created by Yale in 1923, considered the first true forklifts. These machines began to feature items like standardized pallets to increase the load capacity as the decades wore on. The first battery-operated forklifts began to be produced, allowing an eight-hour workday on just one battery charge. Load lifting capacity continued to increase in the 1950s, when operators could lift more than 50 feet in the air. Of course, this necessitated the requirements of safety measures and protocols regarding the operation of these machines, such as cages to protect the driver and backrests for stability.
The 1980s saw increased operator safety restraints and balancing technologies, as well as variations in the type of forklifts, such as three-wheel, four-wheel, gas and electric.
The Present
With all these advancements in power source technology, there have also been strides in mobility, automation and versatility. Today, you have eco-friendly forklifts born in response to the skyrocketing cost of fuel. They also tend to have a longer life span than internal combustion types. Battery-powered forklifts can now feature regenerative braking that basically self-charges and has the ability to recapture energy through load lowering. You also see more options when it comes to electric versions, clean-burning fuels such as clean diesel or alternative gas sources such as liquid propane and even hydrogen fuel cells.
A cool addition to the forklift industry is the Sidewinder forklift by Vetex which utilizes a series of rollers to instantly change direction and even take on small obstacles. Automated forklifts, used in industries like aerospace and automotive, can guide themselves automatically throughout a warehouse. Guidance systems are also on the rise, such as those that incorporate lasers, wires and fiber optics.
The Future
The future of forklifts looks bright, with the advancement on the horizon of on-board technology that will boost the productivity of operators and encourage further connectivity and automation, says Forklift Action. Forklift connectivity is expected to explode, with better visibility into the factory or showroom environment, along with increased and efficient product movement. In the arena of warehouse management systems, you will see more dedication to wireless traffic that relies on business system interaction.
Forklift automation is expected to continue to advance despite challenges present in the warehousing industry, mainly in the areas of sensor durability and distributed services. Keep an eye on the future of forklift technology, as it's coming fast and furious!
______
Tom Reddon is a Forklift Specialist and Blog Manager for National Forklift Exchange. He also sits on the MHEDA Executive Dialogue team. Connect with him via Twitter at @TomReddon.