12 of the Most Hazardous Chemicals You'll Find at a Nail Salon
05/06/2013 Posted on May 6, 2013 | in Health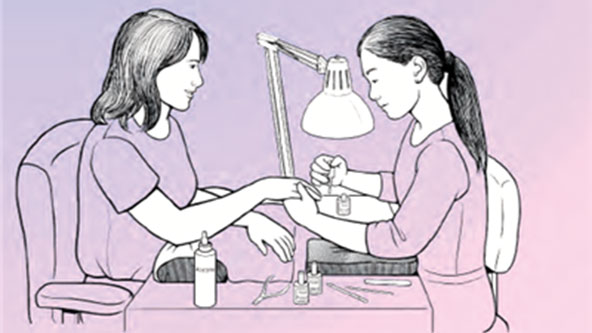 When we think about dangerous workplaces, nail salons and beauty shops don't immediately come to mind; however, maybe they should. Many products used in the giving of manicures and pedicures often contain chemicals with well-known health effects. Nail salon employees are especially at risk given their long-term exposure and/or their exposure to high concentrations of these chemicals in the work environment.
According to a Guide for Nail Salon Workers, published by OSHA, 12 chemicals to be on the lookout for and their potential health effects include the following:
Acetone (nail polish remover): headaches; dizziness; and irritated eyes, skin, and throat.
Acetonitrile (fingernail glue remover): irritated nose and throat; breathing problems; nausea; vomiting; weakness; and exhaustion.
Butyl acetate (nail polish, nail polish remover): headaches and irritated eyes, skin, nose, mouth, and throat.
Dibutyl phthalate (DBP) (nail polish): nausea and irritated eyes, skin, nose, mouth, and throat. Long-term exposures to high concentrations may cause other serious effects.
Ethyl acetate (nail polish, nail polish remover, fingernail glue): irritated eyes, stomach, skin, nose, mouth, and throat; high concentrations can cause fainting.
Ethyl methacrylate (EMA) (artificial nail liquid): asthma; irritated eyes, skin, nose, and mouth; difficulty concentrating. Exposures while pregnant may affect your child.
Formaldehyde (nail polish, nail hardener): difficulty breathing, including coughing, asthma-like attacks, and  wheezing; allergic reactions; irritated eyes, skin, and throat. Formaldehyde can cause cancer.
Isopropyl acetate (nail polish, nail polish remover): sleepiness, and irritated eyes, nose, and throat.
Methacrylic acid (nail primer): skin burns and irritated eyes, skin, nose, mouth, and throat. At higher concentrations, this chemical can cause difficulty breathing.
Methyl methacrylate (MMA) (artificial nail products, though banned for use in many states): asthma; irritated eyes, skin, nose, and mouth; difficulty concentrating; loss of smell.
Quaternary ammonium compounds (disinfectants): irritated skin and nose and may cause asthma.
Toluene (nail polish, fingernail glue): dry or cracked skin; headaches, dizziness, and numbness; irritated eyes, nose, throat, and lungs; damage to liver and kidneys; and harm to unborn children during pregnancy.
Unfortunately many employers and employees working with these chemicals are unaware of the associated hazards and fail to take proper precautions.
Salon owners with employees exposed to hazardous chemicals are covered by OSHA's Hazard Communication Standard 29 CFR 1910.1200 and its recent revisions (attend a free webinar on HazCom 2012 and GHS). Employers have five key responsibilities with regards to chemical safety in the workplace:
Have a written hazard communication program that details how chemical hazards will be communicated and handled in the workplace
As part of that written hazcom program, have a written chemical inventory of all hazardous chemicals in the workplace
Have material safety data sheets for every chemical on the inventory and make sure employees have access to them during their work shifts
Ensure all containers of hazardous chemicals, especially those transferred from larger manufacturer containers into smaller containers, are properly labeled
Train all employees on the specific hazards of the chemicals to which they are exposed and ensure they understand the  how to use the labels and material safety data sheets to reduce risk and exposure
Workers should know that in addition to following the steps listed above, employers are responsible for providing protective equipment, including when necessary respirators and masks. Employers should also takes steps to reduce exposures to hazardous chemicals through proper ventilation, the safe storing and disposing of chemicals, and substituting less hazardous products for more hazardous ones.
Technicians in nail salons face risks beyond chemical hazards, according to OSHA's nail guide, they also face biological hazards like "bacteria, fungi, and viruses…[and] many infectious agents, such as hepatitis B, hepatitis C, and human immunodeficiency virus (HIV)."
Workers should be careful of exposure to blood and exposed fungal infections from infected workers or clients or instruments that have not been properly cleaned. Your employer may be covered by OSHA's Bloodborne Pathogens standard 29 CFR 1910.1030.
OSHA recommends the following steps to mitigate risk of infection:
Avoid touching blood or bodily fluids
Wear gloves
Throw away disposable gloves immediately after use
Wash hands before and after working with clients
Get immunized against hepatitis B
Clean and disinfect tools after each client
Store tools in ultraviolet (UV) sanitizing boxes
Additional information on chemical and occupation safety in nail salons can be found on the CDCs website:
According to NIOSH some 350,000 employees work at nail salons and other personal care services. Owners of nail salons and similar businesses must ensure nail technicians and their clients are safe from the serious chemical and biological hazards present in the workplace and that compliance with OSHA regulations are met.