GHS Adoption Means Big Changes to Canada's WHMIS
02/25/2013 Posted on February 25, 2013 | in Safety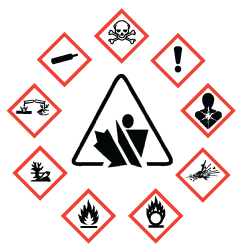 All eyes are on Canada this spring, as a proposal to align WHMIS with the United Nations' Globally Harmonized System, or GHS for short, is expected to be published in Canada Gazette I, maybe as soon as March 2013. Whenever it happens, it will officially put Canada on the final road to GHS implementation.
Canada has long been a key driver in the development and adoption of GHS at the United Nations level, and WHMIS is one of the four major hazardous chemical standards upon which the United Nations GHS is based. However, like the United States, which adopted GHS in March of 2012 (nearly a decade after it was first published by the United Nations), the intricacies of Canada's chemical hazard regulations has necessitated additional time to align the necessary stakeholders and to work through the maze of changes GHS adoption brings to chemical classification, labeling, safety data sheet authoring.
GHS adoption will have implications for the Hazardous Product Act, Controlled Products Regulations, consumer products, pesticides and other pest control products, and the transportation of dangerous goods.
After the proposed changes are published in Canada Gazette I, the next step is to publish an enacted rule in Canada Gazette II – for which the most recently stated goal is spring 2014. Finally, the enacted regulations would need to be worked into regulations at the territory and province level, with an effective date for implementation expected to be June 1, 2015.
The timing of Canada's implementation is intended to bring WHMIS changes on line at the same time the United States hits its major GHS adoption compliance deadline of June 1, 2015.
Canadian suppliers and employers are expected to get a phase-in period for compliance. Yet, if all goes as planned, the United States and Canada will have systems that are very nearly aligned by this important date, making compliance easier for those companies working on both sides of the border.
Regardless of how the timing works out, GHS alignment with WHMIS will bring a host of new challenges to suppliers, employers and workers that make, sell, or use controlled products. GHS will not replace WHMIS, but will dramatically alter three key areas:
Chemical Classification
Safety Data Sheets
Labels
Chemical Classification
Under GHS, WHMIS will have new rules for chemical classification, and even some new hazard classes – which is not to say WHMIS will be any less protective than in its current form. Most GHS classes and subcategories have a corresponding WHMIS class, division or subdivision.
Under GHS there will be 16 physical hazard classes and 10 health hazard classes. New classes include Explosives, Aspiration Hazard, and Specific Target Organ Toxicity (single exposure). A few classes like Biohazards, currently covered by WHMIS, are not part of GHS. Regardless, Canada is not expected to drop such classes. Furthermore, it is possible Canada will adopt classes also not covered in GHS, yet covered by OSHA such as combustible dust and simple asphyxiants.
Safety Data Sheets
Safety data sheets in the GHS format have 16 sections in a very strict order. Canada, which currently has a 9 heading MSDS requirement, has already made allowances for use of the 16 section GHS format in Canada so long as content required by Schedule I, Column II of the Controlled Product Regulations is included.
After GHS adoption, suppliers will be required to produce and distribute safety data sheets in the new 16 section format. Other requirements, such as having safety data sheets in both English and French are not expected to change.
Confidential Business Information is likely to remain largely the same, with suppliers needing to comply with Federal Hazardous Materials Information Review Act and Regulations. Disclosure to medical professionals and emergency personnel will also likely remain compulsory.
Labels
Some of the biggest changes to WHMIS will likely come in the form of GHS formatted labels. WHMIS labels after GHS are expected to have the following mandated elements:
Product Identifier (hazardous ingredients may be required)
Supplier Identifier (name, address, and telephone number)
Hazard symbols/pictograms (square set at a point)
Hazard Statements (with standardized warnings based upon chemical classification)
Precautionary Statements (prevention, storage, disposal)
Precautionary Statements (response)
Signal Word ("Danger" or "Warning")
One familiar Canadian label element that is on the bubble is the reference to the safety data sheet. It is not certain yet whether this label requirement will be retained in the revised WHMIS.
Not changing will be the requirements for employers to include labels on containers into which controlled products have been transferred, on containers that have damaged or illegible supplier labels, and on those containers used for controlled products produced and used in-house.
Canada and United States Harmonization
Many of the changes GHS brings to WHMIS are well known, yet there are a few changes that are still up in the air. Many of these are related to the work Canada and the United States are doing to ensure compatibility between the two countries' regulations.
Canada and the United States, as directed by Prime Minister Steven Harper and President Barack Obama on December 7, 2011, have enacted the Joint Action Plan for Canada-US Regulatory Cooperation Council, with the express objective of "synchronizing implementation of common classification and labeling requirements for workplace hazardous chemicals."
The big changes to keep an eye out for in Canada's Gazette I proposal, according to a presentation Kim Headricks, Healthy Environments and Consumer Safety Branch of Health Canada, delivered to the Society of Chemical Hazard Communication (SCHC) in September 2012, include:
Classification differences between the U.S. and Canada for:

Carcinogenicity
Serious eye damage
Biohazardous infectious material

Label Layout Changes

Hatched border requirement may be dropped, as it could be a "major impediment" to  harmonization with hazard programs outside of Canada

Safety Data Sheet Changes

A repeal of the 3 year MSDS review period
Instead, updates would be required whenever new information was available
Current 3 year burden is not necessarily thought to improve worker safety, nor does it align with GHS
If you would like to learn more about Canada's adoption of GHS, join us for a FREE WEBINAR on Canada's GHS Adoption. We have two dates for you to choose from:
GHS Adoption in Canada, What You Need to Know Now
An update on Canada's GHS adoption and what it means for WHMIS