On-Demand Access to Environmental Compliance Resources
Environmental compliance is a major responsibility for many organizations. If your facility generates or handles hazardous wastes, emits regulated pollutants into the air or discharges them into the water, you're likely to face one or more of these complex and often highly technical requirements.
To make things even more difficult, many states have adopted their own regulatory and enforcement frameworks which can be even more stringent than federal rules. If you operate multiple facilities in multiple jurisdictions, simply understanding your requirements can begin to feel a little bit overwhelming.
You need access to comprehensive compliance resources that keep you on top of the ever-changing state and federal environmental requirements including RCRA, CERCLA, CAA, CWA and many others. Our Enviro Tool Kit puts expert compliance resources and valuable compliance tools right at your fingertips, including:
State-Specific Regulatory Analyses
Continuous Regulatory Updates
Checklists, Forms & Guidance Documents
Weekly EPA Regulatory Newsletters
Online Access to Expert Environmental Consultation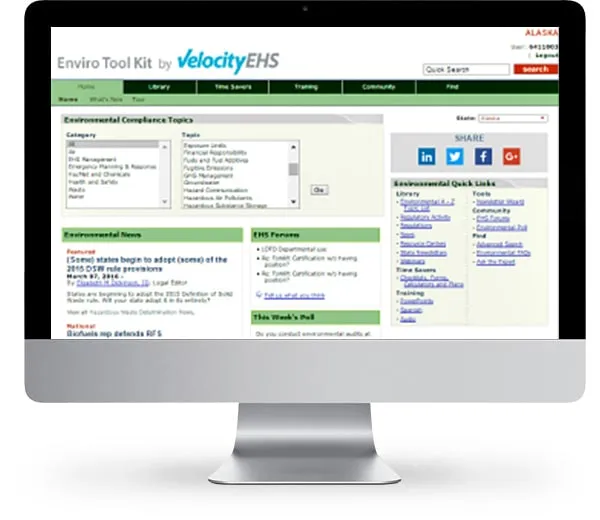 Stay up-to-date on federal and state-specific environmental regulations and requirements with 24/7 online access to common sense interpretations, plain-English analyses, expert advice, case studies, white papers, best practices, and much more.
Benefits
Simplify Workplace Training
When it comes to environmental compliance training, we've done the heavy lifting for you! Our Enviro Tool Kit gives you a variety of pre-built, expert training resources including toolbox talks, audio lectures, PowerPoint® presentations, training guides, handouts, quizzes and exams, training certificates, documentation and recordkeeping tools, and an extensive library of training webinars.
Reduce Costs
Learn and implement more cost-effective environmental monitoring and reporting practices, minimize compliance training expenses, eliminate the need for expensive third-party regulatory consultants, and shield your business from potential fines and penalties.
Work Smarter
Cut through the confusion of complex environmental regulations with common-sense best practices, plain-English regulatory analyses, pre-built compliance tools and more — all from one convenient Web portal that can be accessed anywhere, anytime.