VelocityEHS Awarded Two Patents for Pioneering Use of AI + Machine Learning for EHS & ESG
10/26/2023 Posted on October 26, 2023 | in Accelerate Platform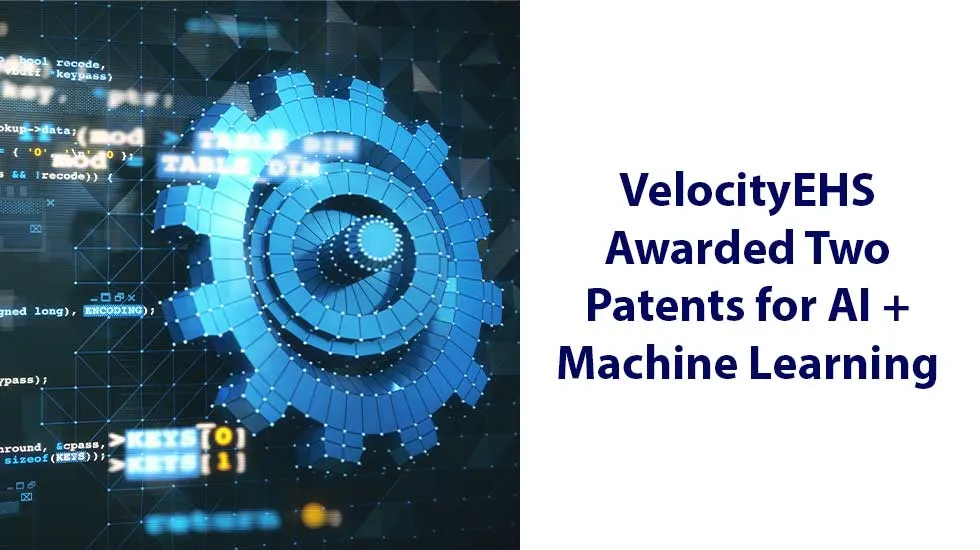 Chicago (October 26, 2023) – VelocityEHS®, the global leader in enterprise EHS & ESG software solutions, announced today that it has been granted two patents by the U.S. Patent and Trademark Office (USPTO) for its groundbreaking use of Artificial Intelligence (AI). The patents demonstrate the company's leadership in developing EHS & ESG technology to drive operational excellence.
Green Chemistry Patent
With the first patent, the USPTO recognized Velocity's innovative use of machine learning (ML), in particular natural language processing (NLP), in its Green Chemistry capability to automate the indexing and extraction of chemical ingredient information from safety data sheets (SDSs). Harvesting this data manually is too costly and error-prone for many organizations, meaning they operate without visibility into their full chemical exposure.
AI-driven ingredient indexing is cost efficient, near real-time and more accurate than current human based indexing methods. It empowers organizations of all sizes to take advantage of green chemistry principles such as identifying, prioritizing, and addressing the chemicals most likely to cause harm, and to control the influx of new hazardous chemicals into their facilities.
Velocity now empowers organizations of all sizes and maturity levels to capitalize on green chemical management principles to create workplaces that are safer and more sustainable.
Ergonomics Patent
The second patent recognizes the company's use of ML, in particular Computer Vision (CV) and NLP, in its Industrial Ergonomics Solution to address musculoskeletal disorders (MSDs), the leading cause of workplace injuries, costing employers billions of dollars a year. By using AI to identify MSD risk root causes and recommend risk control actions, Velocity empowers companies to make expert ergonomics guidance available to every employee and combat MSDs across the entire organization.
"For companies serious about safety, sustainability and resilience, these real-world AI applications of ML and NLP bring immediate value. On the VelocityEHS Accelerate® Platform, they have the potential to impact the wellbeing of millions of workers," said Dr. Julia Penfield, Associate Vice President of Machine Learning. "It's all part of our ActiveEHS® offering, which embeds the expertise of Velocity's certified EHS professionals into our software and amplifies it with AI to help non-experts achieve expert level results."
"Investor interest in ESG is fueling a generational transformation of EHS & sustainability. Velocity's investment in AI and R&D, the largest in the industry, is similarly revolutionizing the speed and effectiveness by which companies can respond to ESG pressures and responsibilities," said Matt Airhart, President of VelocityEHS. "Adding these patented innovations to the Accelerate® Platform's already cutting-edge capabilities is just the start. We have many more game-changers in the R&D pipeline."
The Accelerate Platform consists of seven best-in-class solutions covering Safety, Industrial Ergonomics, Control of Work, Health, ESG, Environmental Compliance and Operational Risk. For more information about VelocityEHS and its complete award-winning software solutions, visit www.EHS.com.
About VelocityEHS
Relied on by more than 10 million users worldwide to drive operational excellence and achieve outstanding outcomes, VelocityEHS is the global leader in true SaaS enterprise EHS & ESG technology. The VelocityEHS Accelerate® Platform is the definitive gold-standard for managing safety, sustainability, and resiliency, and includes seven best-in-class software solutions for:
ESG
Safety
Industrial Ergonomics
Control of Work
Health
Operational Risk
Environmental Compliance
The VelocityEHS team includes unparalleled industry expertise, with more certified experts in health, safety, industrial hygiene, ergonomics, sustainability, the environment, AI (machine learning) than any EHS software provider. Recognized by the EHS industry's top independent analysts as a Leader in the Verdantix 2023 Green Quadrant Analysis—VelocityEHS is committed to industry thought leadership and to accelerating the pace of innovation through its software solutions and vision. Its privacy and security protocols, which include SOC2 Type II attestation, are among the most stringent in the industry.
VelocityEHS is headquartered in Chicago, Illinois, with locations in Ann Arbor, Michigan; Tampa, Florida; Oakville, Ontario; London, England; Perth, Western Australia; and Cork, Ireland. For more information, visit www.EHS.com.
###
VelocityEHS Media Contact
Brad Harbaugh
312.881.2855
[email protected]