Integrating Psychosocial Risk Management with Process Hazard Analyses – Webinar Summary
04/06/2023 Posted on April 6, 2023 | in Operational Risk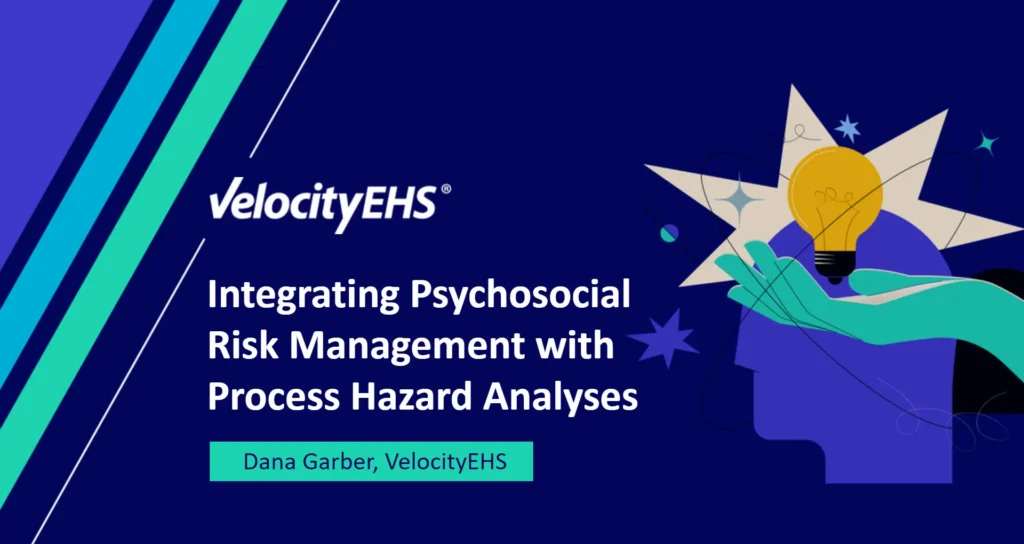 We recently hosted a webinar on the important topic of Integrating Psychosocial Risk Management with Process Hazard Analyses, presented by Dana Garber, VelocityEHS Senior Product Manager of Risk Management. This session broke down the big picture ideas of this concept, sharing:
Data that shows how better understanding of risk controls reduces levels of workers' self-reported work-related anxiety (the psychosocial risk)
Where Process Hazard Analyses (PHA) outcomes can improve worker mental wellbeing and psychosocial risk
Practical PHA tools that will improve personnel input and outputs in the PHA process
What Are Psychosocial Risks?
Psychosocial risks are the organizational, management, and interpersonal aspects of the workplace that increase mental stress for employees. It also includes anxiety related to perceived risks at work, or to workers not being included in safety programs. The biggest contributing factors to psychosocial risks are a lack of visibility of safety data, no employee participation in safety tasks and not addressing specific employee risks and concerns.
What are some Important Facts About Psychosocial Risks?
Nearly one in three EU workers report that they are affected by stress at work.
EU-OSHA poll shows ~50% of workers consider problems with work-related stress to be common in their workplace.
It's estimated that stress-related diseases are responsible for the loss of 6.5 million working days each year in the United Kingdom.
What is a Process Hazard Analysis (PHA)?
A PHA is an organized and structured approach to assess the potential hazards associated with a process. Process hazard analysis is intended to assist safety, risk and plant managers in making decisions needed to improve safety, such as by reducing the potential or impact of unplanned "loss of control" events such as chemical releases.
How Do PHAs Mitigate Psychosocial Risk?
Employee education and skill development are the two biggest ways to mitigate psychosocial risks. HAZOP and HAZID reporting is extensive and detailed, which can make PHA comprehension difficult for personnel. Developing communication strategies, ensuring that personnel feel confident in their tasks, and restricting any kind of observation program (monitoring employees completing tasks outside of training opportunities, thus adding to their anxiety) in the workplace will help employees gain a better understanding of the reporting from HAZOPs/HAZIDs.
In the session, Garber also shares the importance of managing the personal work environment to not just remove/mitigate stressors (ambient noise, air quality concerns, ergonomic issues), but also to ensure that personnel understand what those hazards are and the impacts they can have.
Ultimately, by addressing the psychosocial risks of a workplace, the organization will experience the key benefits of lower absenteeism rates, reduced benefits cost, lower incident and injury rates and a reduction in disability claims/rates.
To see the conclusions of the session and learn more of the facts on integrating psychosocial hazards for yourself, watch the session on-demand from our resource library.