Elements of Successful Ergonomics Teams: Who? What? How Much? 
07/25/2022 Posted on July 25, 2022 | in Ergonomics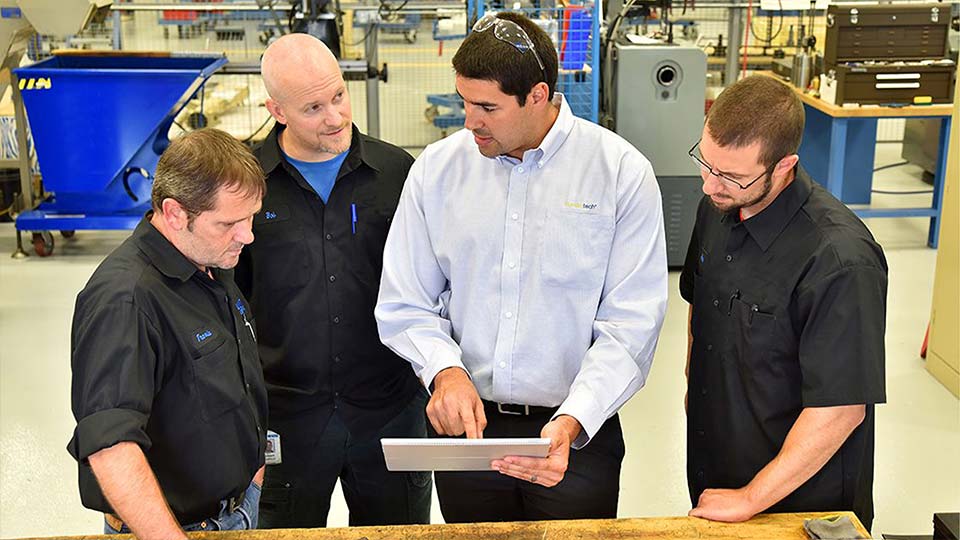 I have to admit, this article is selfish. The reason I'm writing about what makes a successful ergonomics team is because this has been the number-one question I've had from my customers this year.
So I thought it would be good to summarize the three main questions I hear related to building an ergonomics team:
Who should be on an ergonomics team?
What should the team be doing?
How much time will they need?
So, let's get down to the answers.
Who should be on an ergonomics team?
When creating an ergonomics team, it's important to consider these questions:
How is my organization structured?
While you're considering who to include in your team, know that a large team won't automatically ensure success. The less ownership each person takes, the less effort each person makes. The team only needs to be large enough to accomplish the workload.
Keep in mind that the core team doesn't have to do everything. The relationship between the core team and the rest of the team can be similar to an immediate and extended family, where an immediate family covers the day-to-day, but they can ask for assistance as needed from the extended family. Some customers have created Core Teams who can do everything within the job improvement process, along with Extended Teams made up of those individuals with expertise in a specific area (like maintenance during implementation of improvements, supervisors when working in a specific area, leadership when communicating across the organization etc.) who can be called on when needed.
The team should made up of a mix of employees, created based on the structure of your organization. For example, if there are no engineers at your facility, replace those roles with maintenance members. And don't just select individuals based on role, consider team members who have characteristics which will lead to success, such as: reliable, participative, innovative, communicative, willing to learn, results-oriented.
What should the team be doing?
Although the ergonomics team is just one part of the support structure of an ergonomics improvement process, they are a very important element. These individuals will have specialized knowledge, skills and tools to provide tactical assistance to the process.
The ergonomics team will have two functions – to DO assessments, prioritize interventions, oversee/perform job improvements; and to MANAGE the process, promote it, and continuously improve and evolve the program.
The Core Team members need to be available to attend regular meetings, perform assessments, pursue improvements during non-meeting times, have access to technology and working knowledge of the internal process required to make change. Keep in mind that the core teams must be supported by a management sponsor and process lead who should also have specific actions they are responsible for, such as:
Committing resources
Ensuring accountability
Communicating with stakeholders
Tracking progress to goal
Maintaining records
How much time will they need?
When someone asks "How much time will it take?" they really mean "How much will it cost?" It's best to understand how much time is acceptable to your organization and then determine, from that, what can be done in the allotted time. This way you can work forwards or backwards.
Take a look at this typical distribution of time:
2 hours/person/month: 30 mins. for meetings (25%), 30 mins. for assessments (25%) (1 assessment/person), 1 hr. for implementing improvements, following up, etc. (50%)
Consider the following calculation. If you can allot two hours of time per month:
Available Team Hours Per Month ÷ Time to Complete Assessments = Assessments Completed Per Month
2 hours per month ÷ 30 minutes = 4 Assessments Per month
100 Unique Jobs ÷ 4 Assessments Per Month = 25 Months to Complete ALL Assessments
If you'd like to have all your assessments completed in 12 months, you're going to need to increase the time available to complete assessments or increase the number of team members to get more done in the allotted time.
Training and leveraging an ergonomics team has proven to add value in effectiveness and acceptance of workplace changes. Team involvement has worked wonders for our most successful customers. Keep in mind that teams are fluid and they'll change over time, but having a solid foundation of process, tools, and reporting will ensure any new members of the team will be successful.