How to Easily Incorporate Ergonomics
03/17/2021 Posted on March 17, 2021 | in Ergonomics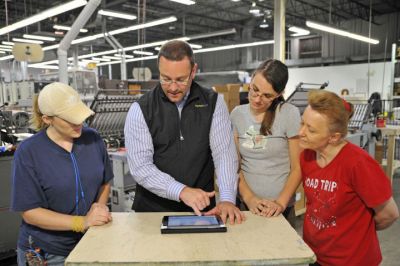 For most ergonomics process owners, ergonomics is not the only thing on your plate. Those other responsibilities can include everything from ensuring that compliance regulations are met to keeping everyone's training on track—and those ad hoc responsibilities that come at you from out of nowhere.
With so many things vying for your time every day, incorporating ergonomics—a program that while important, is not always required according to regulations—may seem like an extra job that can get cut with minimal immediate fallout. But this is a problem for meeting your goals of proactively reducing musculoskeletal disorder risk factors, which have long-term consequences. Luckily, ergonomics doesn't have to add a new set of tasks and responsibilities to your (already full) plate in order to add meaningful benefits.
Incorporating ergonomics can be easy.
You can work ergonomics into other responsibilities. Moreover, delegating and building some of these responsibilities into existing health & safety tasks that others are responsible for helps increase engagement while lightening your load as well.
Ergonomics assessments can be simpler.
Although some assessments may take some time to complete, you can counter this by finding a user-friendly quantitative assessment. The right assessment will clearly outline the steps to completion and provide clear indications of where your risks are coming from, reducing assessment time. And, if the assessment results are presented clearly and illustrate how risk factors are contributing to the job's score, it streamlines the root cause identification process and leads to more impactful improvements saving more time.
Ergonomics can increase engagement.
With a user-friendly assessment tool, rapid and insightful questions can be posed to operators during standard check-ins or inspections. While you're looking for health & safety risk factors, such as trip hazards or machine guarding, ask if there are any overhead reaches or difficulties using existing tooling. This will help color the picture of existing operator barriers and guide you towards the jobs that need more time for assessing with a quantitative in-depth tool.
Every company, and site for that matter, has it's own barriers and complexities to navigate while trying to develop and sustain a participatory ergonomics program. But if you find ways to incorporate ergonomics into existing processes and find the right assessment tools, you can increase engagement and impact without adding much more to anyone's plate.
Looking for other resources on ergonomics processes? Check out these blog posts: