Home Office Ergonomics: Equipment for Every Budget
07/07/2020 Posted on July 7, 2020 | in Ergonomics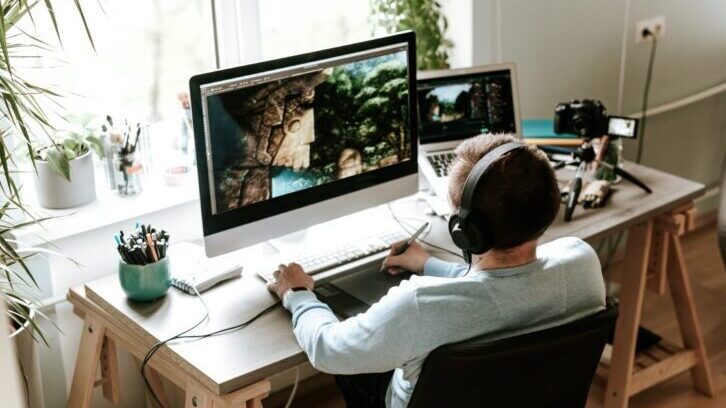 Many of us have been working from home over the past few months, and the physical effects of working in a sub-par workspace are starting to show. As individuals and companies alike begin to recognize the importance of investing in home office equipment, the question of what each person needs becomes more important. Choosing the right equipment for working from home can help you create a well-designed workspace that promotes comfort, health, and productivity.
My fellow ergonomist Brandon Beltzman and I  created the Home Office Ergonomics: Equipment for Every Budget guide and selected the resources below to help you make equipment decisions for every budget, starting with the basics (under $250) and adding on with essentials (under $500) and upgrades (under $1,000). It's okay to mix-and-match from these different categories depending on what you already have and where you might be experiencing discomfort; approximate prices, trusted brands, and purchase considerations are included to give you a full picture.
Office Equipment Under $250: Basics

The starting point for every home office is using an external keyboard and a mouse. These items will help you keep your arms close to your body and will allow you to position your screen properly. For example, if you are using a laptop without an external keyboard, either the screen will be too low, or the keyboard will be too high. Ideally, your keyboard is positioned so that your elbows are close to your body with a 90-degree bend, and your monitor is positioned at eye level about an arm's length away.
Any standard external keyboard will do for most users. However, if you are experiencing any discomfort or tingling in your hands or arms, you may wish to try a curved or split option.
Quick tips for using keyboards:
Consider a keyboard without a number pad, if there is an option for it; number pads aren't necessary and can limit available desk space for keyboard positioning.
Keep the keyboard feet in the "closed" position, so that the keyboard sits as flat as possible.
A standard mouse is comfortable for many people. A lesser known option that enables more neutral wrist and arm positioning is a vertical mouse, which may work best for those experiencing discomfort and those looking to try something new.
Evoluent standard and small models ($115) are great choices. Their website also has a fitting guide for the correct size based on hand measurements. Wired models are also available.
Goldtouch makes a "semi-vertical" model ($100) for those who are hesitant or prefer the feel of a horizontal mouse but are experiencing discomfort. The wireless ambidextrous mouse ($45) is also a solid choice.
Logitech is a brand you may be more familiar with, which touts several great vertical mouse options. We recommend the MX series, which includes the MX Vertical Mouse ($100) for an all-around fit, and the MX ERGO Trackball Mouse if you have limited space or shoulder mobility.
Once you have selected a keyboard and mouse, add on other accessories depending on your current setup and preferences.
A backrest with proper low back (lumbar) support and a comfortable seat is important. Choose a pillow if you find your chair lacking. Try the Cushion Lab Ergonomic Lumbar Pillow ($45) for lumbar support, or the BodyBilt Stratta Cushion ($100) to improve your seat.
A footrest can help if your feet are not fully supported on the floor.
Headphones can help create a more favorable sound environment, whether they're over-ear or in-ear, and a pair with a microphone is great if you're on the phone often.
Office Equipment Under $500: Essentials

Beyond the basics, look to expand your home office setup with a proper work surface, monitor, and chair.
Your work surface should be wide and flat, with plenty of room underneath for leg clearance. Ideally, it's not more than 2" thick at the seated area, which means that some desks with drawers in the middle are problematic. If this is the case with your current work surface, you may want to upgrade.
Next, determine if you would benefit from an external monitor, which may provide a larger viewing area for your work. This is especially helpful if your computer is a laptop or if you prefer using multiple monitors.
Then, consider your chair. Spending a bit more money can get you a cushioned chair with a full backrest and lumbar support. A lot of research about biomechanics and prolonged sitting is involved in the design of office chairs, so it can very worthwhile to switch over from your kitchen chair. There are less expensive options than what you might find in your office, and while these are typically rated for fewer daily hours, that may not be as much of a concern if working from home is temporary or alternating for you. Make sure the seat height and width are appropriate for you, in addition to the weight capacity.  Click here for more in-depth information on picking a home office chair.
Office Equipment Under $1,000: Upgrades 
At a higher price point, the ability to adjust your equipment and convert to a standing desk becomes possible.
An upgrade to a higher quality adjustable office chair will provide increased adjustability, and the padding is designed to last longer and support you better. If working from home will be your new normal, consider it a good investment. Look for these adjustable features: seat height, seat pan depth, lumbar support, back tilt and tension, and armrests. Some options around $500 are the BodyBilt Sola LT, Steelcase Series 1, Haworth Soji Task Chair, and Herman Miller Sayl Chair.
A monitor arm can provide increased flexibility and will also open up more space on your work surface. Make sure the arm you choose adjusts in both height and distance and is load-rated to support your monitor.
A sit-stand desk will enable you to work in both seated and standing positions. This increased movement throughout the day can help reduce discomfort associated with static postures. Another option is a sit-stand attachment;  enabling you to convert your current work surface into a standing desk. For example, Ergotron options under $200 include the Lift35 and Lift101. Fully adjustable bases are also available in both manual and electric models, such as the Vari Standing Desk.
For more, download our Home Office Ergonomics: Equipment for Every Budget guide to select the combination of equipment that best suits your budget and needs—you will be able to work from home like a pro.
For more resources on working from home, check out our toolbox.