Is Your Ergonomics Approach Smart? Part One
08/27/2018 Posted on August 27, 2018 | in Ergonomics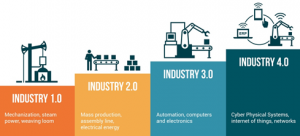 Ergonomics is about improving the lives of the working population, reducing incident costs, staying compliant and, as a result, improving productivity and quality. The push for smart technology and real-time data, from companies in every industry, continues at a fast pace. Business leaders predict future outcomes and make decisions based on what is happening right now. And, when those results show high risk in the workplace, people listen.
Klaus Schwab, of the World Economic Forum, calls this time The Fourth Industrial Revolution or Industry 4.0. It is the coming together of advanced manufacturing techniques and the Internet of Things (IoT) to create a "smart factory." The first industrial revolution was propelled by the invention of the steam engine; it reached its pinnacle in the mid-19th century. The revolutionary waves of mass production in the late 19th century and the computer revolution of the 1960s followed.
Industry 4.0 is at the center of business strategy for several reasons:
The push makes sense in production, supply chain, and quality and process improvement initiatives. But what's the connection with ergonomics?
An ergonomics process should be efficient, one that leverages the latest and greatest technology to obtain data and metrics to drive the process. It should enable people to communicate in the same language as leaders so that resources can be made available to improve the lives of the working population.
To build a smart process, use a cloud-based system to electronically track assessments, direct causes, improvements, and follow-up assessments. The system must be accessible from any device, including smart phones and tablets. When selecting the system, consider these elements:
Can it be used across the globe?
Does it provide real-time data and analytics to monitor progress and enable leaders to make decisions?
Does it have on-demand learning modules to develop user competencies?
Is it safe and secure?
Initiating a smart ergonomics process will not only help you align with core business strategies to enhance your organization's bottom line, but it will also improve the roles of your people (more in next month's e-newsletter). So, is your organization part of Industry 4.0 or will you be left behind?
source: https://rctom.hbs.org/submission/humans-vs-machines-who-will-manage-the-factory-of-the-future/