Overcoming Safety Training Challenges with Technology
08/14/2017 Posted on August 14, 2017 | in Safety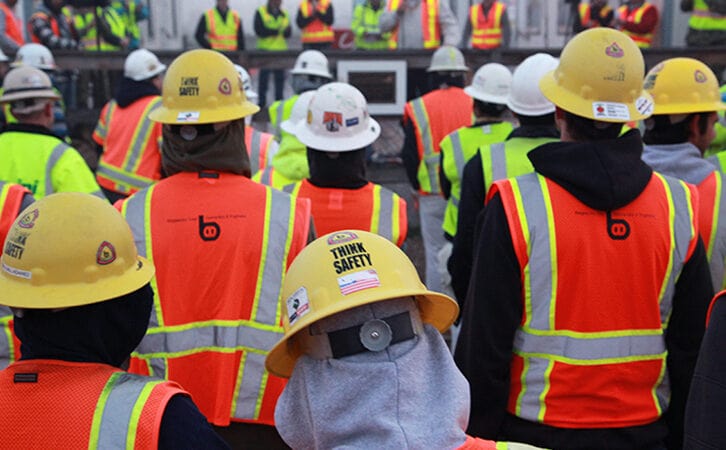 Deploying, tracking and managing safety training in any dynamic work environment is an uphill battle. Add to that the evolving conditions due to worker diversity, changing regulations and more spread out workforces, and the challenges surrounding safety training become increasingly more complex.
In the article, "Safety Training Under Complex Conditions," in the August issue of Facility Safety Management, VelocityEHS experts take a deeper look at some of the challenges health and safety professionals face. Following is a closer look at those challenges, and how EHS software solutions have expanded the options used by employers to overcome them.
Growing Workplace Diversity
As the workforce become increasing more diverse, employers are being forced to evolve their training methods to meet a wider variety of demands. From a training perspective, diversity includes traditional demographic factors like ethnicity, language, culture, gender, age and education; as well as psychographic factors like preferred learning styles, knowledge and experience, and motivational factors. Collectively, these factors are present to some degree in every workplace.
One solution gaining in popularity is on-demand training. The VelocityEHS On-Demand Training solution in particular offers a highly effective and simple alternative (or compliment) to traditional training, allowing you to administer extensive library of flexible online courses on a variety of EHS topics to employees at any time via an easy-to-use online interface. Employees can engage in courses from remote locations (vs. having to be in a centralized classroom environment), learn at their own pace, and benefit from a wide variety of training modules in a variety of different languages all through a single system.
The "bite-sized" learning approach that systems like VelocityEHS offers is particularly appealing to the growing number of millennial workers who have come to expect – and even benefit from – a more interactive approach to learning. Training sessions are broken into shorter, more digestible courses that keep employees interested in the information being conveyed. Research suggests that training sessions broken into shorter, more digestible courses keep employees more interested in the information being conveyed. By 2020, it's estimated that nearly half (46 percent) of all U.S. workers will be Millennials so expect to see this trend accelerate even more.
Compliance with Complex and Constantly Evolving Regulations
Employers bear the burden of overcoming complex, changing, and often strictly enforced regulatory training requirements. That burden only feels heavier when regulatory changes involve employee retraining; just when you think you have it down, regulatory requirements change, forcing your training requirement to change with it. Failure to do so not only puts your employees in harm's way, but can result in fines, decreased productivity, rising worker's comp claims, or worse, potential litigation expenses.
This is where a good system like the VelocityEHS Training Management solution changes the equation. Our training management software provides a single centralized source of information so you can drill down on the individual employee level, or see trends aggregated from across your organization. With greater visibility and control over training logistics across the entire enterprise, it's easier for you to spot areas where additional course requirements are needed, and stay on top of training requirements to ensure others don't fall through the cracks.
"On the Fly" Training Needs
While frequent safety meetings have been shown to directly reduce the number of severe incidents and injuries in the workplace, coordinating and managing them can be a real challenge, especially when it comes to meeting recordkeeping requirements. Meeting dates, times, minutes, names of attendees and their job functions, hazards addressed, roles assigned, and actions taken is just some of the information agencies like CCOSH, HSE, and regulators in 22 U.S. states require businesses both large and small to document and maintain. Even without these strict requirements, just finding a time everyone can come together, staying on topic, and tracking which employees were present for which session are pain points managers may have to contend with.
VelocityEHS Safety Meetings provides the tools necessary to efficiently record, track, distribute and report important safety meeting information across the entire organization, as well as archive the information for compliance purposes. Meeting schedules, agendas, notes, roles and responsibilities, action item status, and all other meeting documentation can be recorded and housed in one centralized system, and routed to attendees and other stakeholders via email. Even better, leaders can quickly schedule recurring meetings and carry-over unresolved topics, agendas, and action items to the next talk.
Let VelocityEHS Help!
As safety challenges at your facilities increase in complexity, your training programs must also evolve and adapt. The VelocityEHS Platform and full-suite of EHS and training products help employers meet the growing demands of a diverse workforce and eliminating the monotonous tasks that takes up a disproportionate amount of a manager's time. For more information about how VelocityEHS can help you reach your EHS goals faster, visit our solutions page or call us at 1.866.919.7922.
Check out the August issue of Facility Safety Management by visiting www.fsmmag.com.