NAEM Report Offers Proven Strategies for Managing Compliance with Emerging Regulations
08/17/2017 Posted on August 17, 2017 | in Safety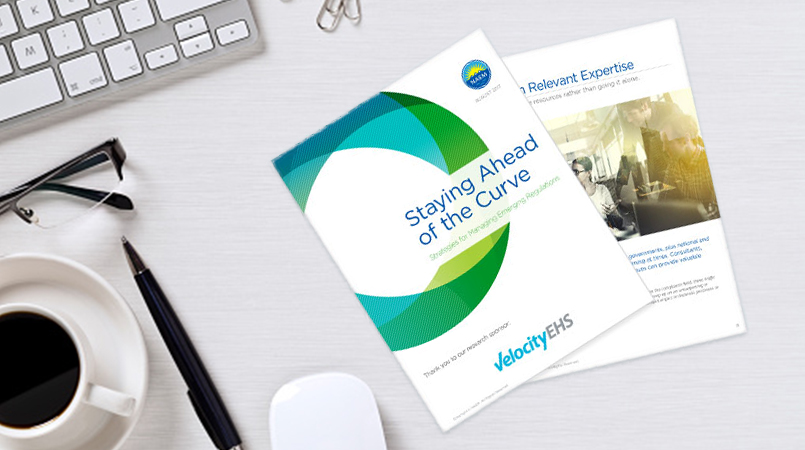 The National Association of Environmental Managers (NAEM) has published its latest report, Staying Ahead of the Curve: Strategies for Managing Emerging Regulations. The report is based on NAEM interviews with some of the biggest corporate leaders in EHS and sustainability management, and offers an inside look at how they successfully manage compliance in today's increasingly complex and ever-changing regulatory landscape. It also provides a positive, constructive, and holistic approach to maintaining compliance, with actionable strategies you can implement to fine-tune compliance management programs at your organization.
 When it Comes to Compliance, VelocityEHS Has You Covered.
At a high level, VelocityEHS provides software to help you streamline and simplify compliance management. As part of our compliance management software suite, we offer a product called Compliance Management which allows you to create a single, centralized library to document and store all of your EHS compliance requirements, and gives you the ability to organize and track them in an intuitive calendar format. You can then quickly and easily schedule, assign and monitor corresponding action items across every location in your enterprise. Our Compliance Management product can be implemented on its own, or alongside our other software products as part of a broader compliance management effort.
For instance, our Audit & Inspection product gives you a streamlined system for evaluating the effectiveness of your compliance management programs. It features built-in customizable audit checklists that can be deployed across each of your facilities based on their unique compliance requirements, and available regulatory content integration that automatically updates your regulatory requirements using a comprehensive applicability analysis to ensure you stay in compliance.
Responding to changing regulations, including all of the necessary updates to processes, policies, equipment and personnel requires an effective change management system to ensure coordination across the entire enterprise. Ranked as the best Management of Change (MOC) system in the industry by leading third-party analyst firm Verdantix, our MOC solution streamlines complex EHS process workflows, and makes it easy for you to manage change with greater efficiency and visibility.
In addition to delivering award-winning EHS and sustainability management software, VelocityEHS is committed to providing thought leadership in a variety of related topics. Our in-house EHS experts are continuously monitoring the latest developments to keep you up-to-date with changes to the EHS standards and regulations that affect your business. Explore our library of VelocityEHS Resources to learn more.