Selecting the Right Casters for the Job
05/25/2011 Posted on May 25, 2011 | in Ergonomics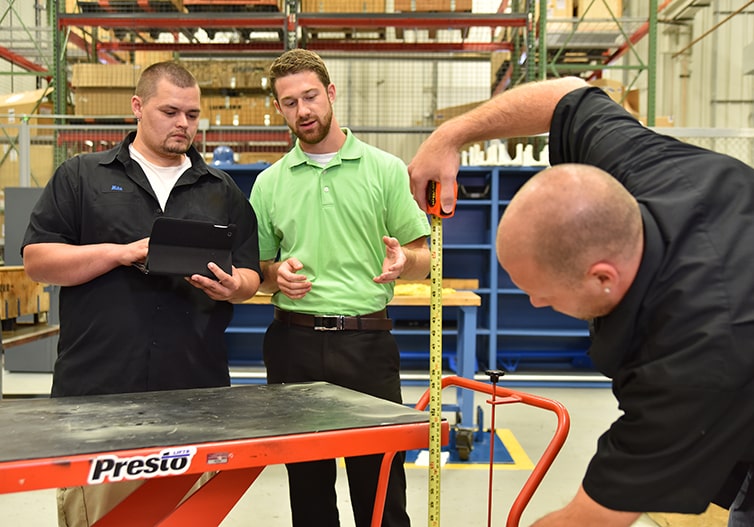 As an ergonomist, one of the most common questions I get asked is how to select the right casters and wheels for a specific job. Something as simple as the wrong wheel on a cart may turn into a source of high ergonomic risk exposure to the operator. Therefore, proper caster selection is essential. Here are some key features to consider when choosing casters:
Surface of the job. Whether it is an indoor environment (usually poured concrete) or outdoors (where surfaces vary from dirt roads to asphalt and grass) the appropriate type of wheel may change significantly, from solid urethane to air-filled rubber. The rougher the surface, the softer the wheel should be. However, the harder the wheel, the lower the force required to maneuver the cart. This implies a trade-off between wheel reliability and push/pull force requirements.
Weight of the job. Knowing the maximum weight you need to support will help determine the proper casters and wheels for the application. To minimize the pushing force, the minimum recommended caster diameter is 8″, and to maximize stability, the recommended caster width is 2.5″ to 3.0″. Casters should contain ball bearings to further reduce the required push forces.
Transport distance and location. A combination of straight and swivel casters should be used when steering in straight lines or around tight corners. For pulling applications, the swivel casters should be in front of the cart, and for pushing applications, the swivel casters should be in the back.  Locking mechanisms should be available to prevent runaways.
The proper casters will reduce the forces required to move the cart however, a properly designed cart is also essential to offer the operator a risk-controlled work environment. Cart features include:
Handles. Continuous vertical handles are best separated by 18″ maximum and 1.5″ in diameter, and 5″ long (5.5″ with gloves).  The height of the handles will be determined based on who will be maneuvering the cart, ranging from 36″ to 45″.
Size. The size of the cart will depend on the size and weight of the load to support and the space constraints of the environment.
Height Adjustability.  This is desired if manual transference of loads is required to/from the cart to various heights (e.g. conveyors, pallets, worktables).
Distance. Powered carts will relieve manual exertions during longer trips.