Safety Training Thursday – Trenching and Excavating – OSHA Gone Wild
07/15/2010 Posted on July 15, 2010 | in Safety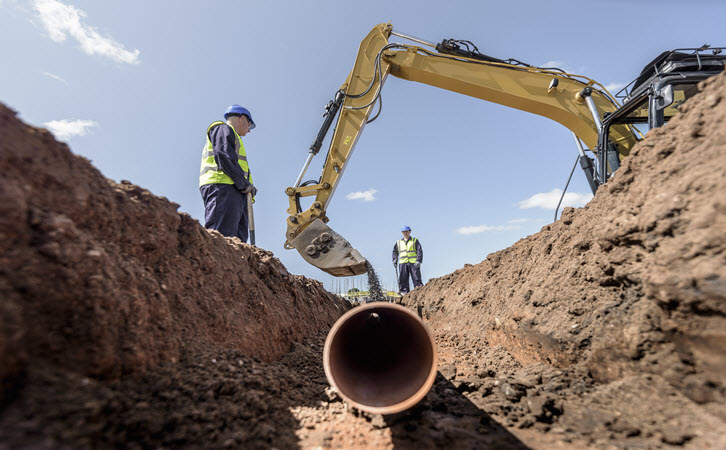 In the last couple of weeks, the video of a trench caving in at the exact moment an OSHA inspector is telling the crew that one of the workers can't be in the trench has gone viral.
The video illustrates at least three important lessons for employees and employers:
Trenching and excavating are hazardous activities that should be done by an experienced and properly trained crew because accidents can happen at anytime
You never know when an OSHA inspector could stop by your worksite
We live in a digital age. If you are not following safety procedures, a video or photographs of your non-compliance could end up anywhere
This last point is especially important given OSHA's push to bolster whistleblower protections and elicit feedback from employees regarding unsafe practice in the workplace. Furthermore, OSHA is currently working on a standard that would require all employers to implement an injury and illness prevention program that identifies hazards and addresses them. The strategy is known as Plan/Prevent/Protect or "Find and Fix." If such a standard goes through, videos or photos of hazards in your workplace could be evidence of known hazards that should have been addressed. Of course, the first step to a safe work environment is proper training. To help, VelocityEHS offers a suite of On-Demand Training packages, including a program on Trenching and Excavating
Course Coverage
Trenching and Excavation covers required training related to the hazards and safety principles unique to trenching and excavating including: planning factors, site assessment, different types of excavation methods, confined space requirements, general safety principles, causes of excavation and trenching related fatalities, cave-in accidents, and recognizing hazards present during trenching and excavation work.
Training Options
Call 1.888.362.2007, or visit our Workplace Safety Training Web page for information about our on-demand training offering, including a list of available courses. If you're interested in an option that does not require all employees to be present at the same time, you can take a pass on a classroom style format and consider an online solution.