OSHA's Top 10 List of Most Frequently Cited Standards: Fall Protection
05/08/2023 Posted on May 8, 2023 | in Safety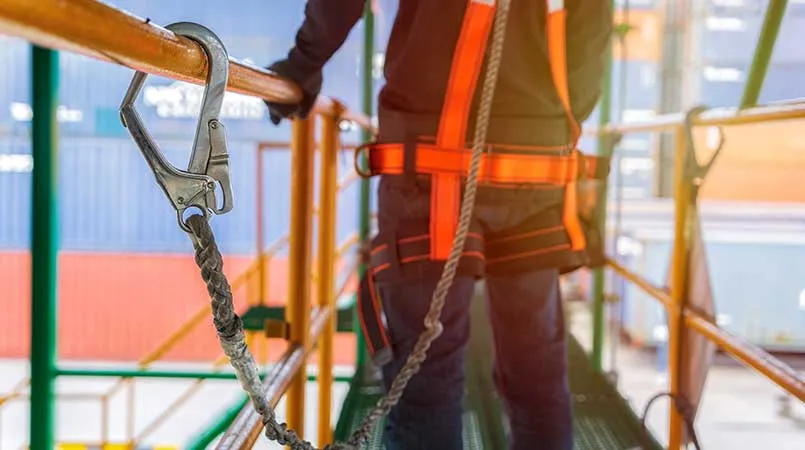 Welcome to the first installment of our new VelocityEHS Blog series on OSHA's Top 10 Most Frequently Cited Standards! Each year at the National Safety Council (NSC) Congress & Expo, EHS professionals eagerly await OSHA's release of their Top 10 List of Most Frequently Cited Standards. The list offers valuable insights into the current state of workplace health and safety compliance in the US and provides vital clues as to where OSHA is likely to focus its enforcement directives and activities during the coming year. OSHA's Top 10 List of Most Frequently Cited Standards is an important guide for EHS professionals to help them strengthen common weak points in their workplace health and safety programs, minimize compliance risks, and build a safer, healthier workplace for all.
Throughout this blog series, we'll dive deep into each of OSHA's Top 10 Most Frequently Cited Standards and discuss the most cited provisions within each Standard. We'll also provide a brief overview of corresponding injury and illness data to provide some context for OSHA's citation statistics, but more importantly, to drive home the human impact of workplace hazards. Lastly, we'll offer proven health and safety management best practices that you can implement in your workplace to help simplify compliance and protect your people.
OSHA 10 Top 10 Most Frequently Cited Standards for 2022
In case you haven't seen the list already, OSHA's Top 10 Most Frequently Cited Standards for FY 2022 are:
OSHA's Fall Protection Standard General Requirements: A Persistent Compliance Challenge for Employers
For 12 consecutive years, OSHA's Fall Protection Standard has ranked as the single most cited workplace health and safety standard among US employers. That unfortunate trend continued in 2022 with 5,980 violations, significantly outnumbering citations for the next two most cited standards combined and representing 24% of all violations on OSHA's Top 10 List. It's also worth noting that the 5,980 violations here DO NOT include 1,778 violations of the Fall Protection Standard's training requirements. If you were to combine these into a single group, OSHA's Fall Protection Standard would represent 31% of all citations on the Top 10 List.
The 5,980 violations in question here are for Fall Protection Standard General Requirements, which primarily apply to the physical hazard controls and design specifications that employers must provide and/or implement to protect workers at their establishments from fall hazards. The five most cited requirements of OSHA's Fall Protection Standard General Requirements represent nearly 97% of all standard citations issued in 2022. They are:
The Costs of Non-Compliance
Compliance penalties for violations of OSHA's Fall Protection Standard (and all OSHA Standards) can quickly pile up, with a single inspection or workplace injury prompting multiple citations. In fact, the largest penalty issued by OSHA in 2022 was for violations of OSHA's Fall Protection Standard. In that case, an employer was cited for four serious violations and nine willful violations stemming from a 2021 incident involving a worker who was killed after falling 18 feet from a roof through an unprotected skylight. The total penalty amount issued to the employer in that case was $1,201,031.
Employers should also be conscious of the fact that federal civil penalties for non-compliance with federal regulations have gone up in 2023…way up. In January, OSHA published their 2023 annual civil penalty adjustments as required under the Federal Civil Penalties Inflation Adjustment Act of 2015. Under the Act, all federal agencies are required to annually revise and publish their schedule of civil penalties based on the previous year's rate of inflation, which is calculated based on the US Bureau of Labor Statistics Consumer Price Index for all Urban Consumers (CPI-U). 2023 federal civil penalty adjustments are based on a published Consumer Price Index (CPI-U) multiplier of 1.07745.In other words, all federal fines and penalties for non-compliance went up by 7.7% — roughly equal to the average rate of inflation faced by all consumers in the US during 2022.
OSHA takes fall protection seriously, and on May 1, 2023 the Agency issued a new National Emphasis Program (NEP) of fall hazards and fall protection. The NEP applies to all OSHA-covered workplaces where work at heights is performed, with all inspections of construction workplaces to be performed pursuant to the NEP and non-construction inspections to be targeted at workplaces where any of the following types of work activities are performed:
Roof top mechanical work/maintenance
Utility line work/maintenance (electrical, cable)
Arborist/tree trimming
Holiday light installation
Road sign maintenance/billboards
Power washing buildings (not connected to painting)
Gutter cleaning
Chimney cleaning
Window cleaning
Communication Towers
Under the NEP, OSHA's Certified Safety & Health Officers (CSHOs) are authorized to initiate inspections under the scope of this NEP whenever they observe someone working at heights, meaning that an unscheduled inspection of your workplace can occur any time work-at-heights is being performed, without any prior notice. Considering OSHA's vigilant focus on workplace fall hazards and compliance with the Fall Protection Standard, employers should take special care to do everything they can to eliminate those hazards and adhere to the Fall Protection Standard. Failure to do so now puts your business at an even higher risk of non-compliance.
Fall Protection Injury Statistics: The Human Costs
It's clear that the financial costs of non-compliance with OSHA's Fall Protection Standard can irrevocably damage your businesses' bottom line, as well as its reputation in the eyes of customers, partners, investors, and other stakeholders. Sadly, it's all too easy to overlook the cost to your businesses' most important resource…your workers. A workplace injury from a fall can be life-altering, even life ending. Great companies focus on protecting the safety and health of their workers and the physical and mental costs of failure to do so, rather than focusing on the regulatory risks and compliance costs of OSHA Fall Protection Standard violations.
The number and frequency of fall-related workplace injuries are alarmingly high, and closely mirror OSHA's citations of its Fall Protection Standard. Most recent available work-related injury and illness data from NSC shows that in 2021, slips, trips, and falls were responsible for 18% of all non-fatal work-related injuries reported, with individual injury cases resulting in an average of 14 days lost. (Figure 1) Fall-related injuries were also responsible for 16% of all work-related fatalities reported that year.
The monetary costs of these injuries are difficult to quantify, but OSHA's Safety Pays calculator offers estimated costs of occupational injuries and illnesses. For example, a fracture injury resulting from a fall is estimated to have direct costs of $54,856 and indirect costs of $60,341 for a total of $115,197. This amount says nothing of the costs to the workers who are the victim of fall-related workplace injuries. We're talking career-ending loss of livelihoods— life-altering injuries and disabilities whose impacts are literally incalculable and can irreparably damage families and communities.
It is our duty as employers, and as EHS professionals, to take every possible measure to protect our workers, our business, and our communities. Yet, year after year, we continue to see OSHA Fall Protection Standard violations remain tragically common, and fall-related injuries continue to destroy careers…and lives.
As EHS professionals, we must do better.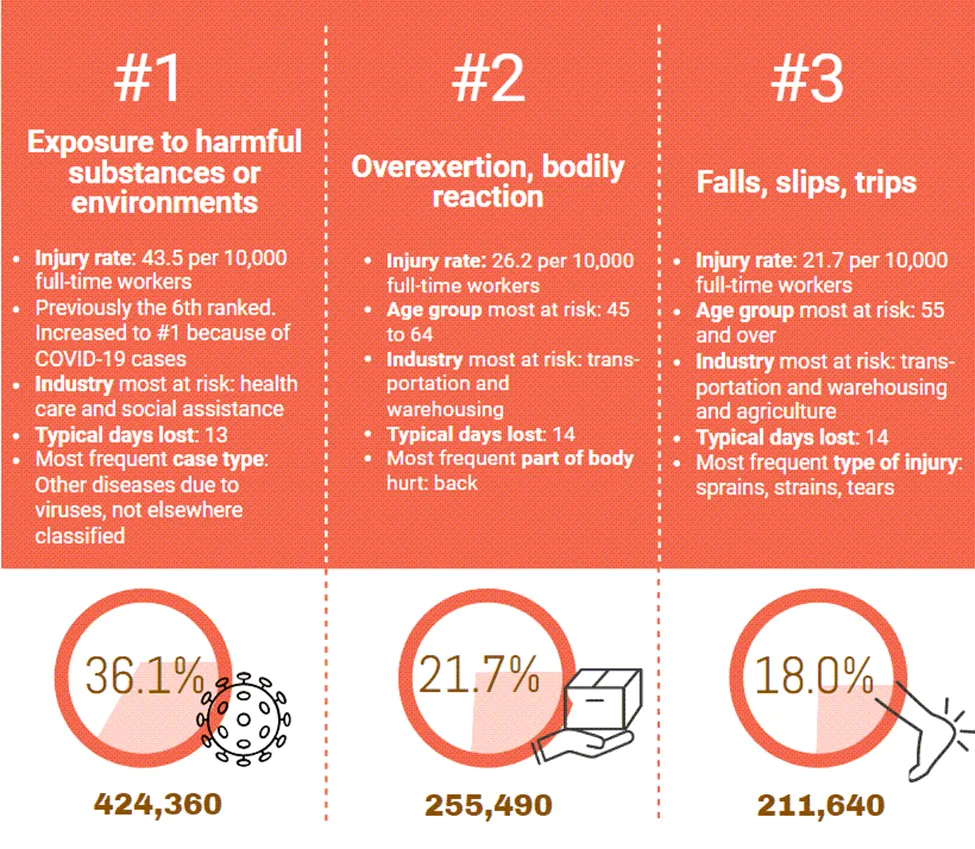 Fall Protection Best Practices
When we look at the types of violations that OSHA most often cites under its Fall Protection Standard General Requirements, we see they are primarily related to identification of fall hazards, and failure to install fall protection systems and equipment appropriate to those hazards. There are many fall protection devices and equipment available on the market, and manufacturers are continuously improving the design and effectiveness of these systems, but they have literally zero value if EHS professionals fail to identify fall hazards and put the necessary fall protection controls in place. I have worked in the residential construction and the commercial fishing industries and over the years, seen a disturbing lack of fall protection systems and equipment in places where it should most certainly be present. Perhaps it's a result of workers and supervisors not knowing when or what fall protection is required. Perhaps it's due to the unavailability of fall protection equipment, or failure on the part of the employer to provide appropriate fall protection equipment. Maybe it's the result of a workplace culture in which getting the job done is priority number one, and safety unfortunately takes a back seat. There can be many factors to non-compliance but whatever the cause, establishing a written workplace-specific fall protection plan is step one to understanding and complying with OSHA's Fall Protection Standard.
All workplaces where fall hazards are present should have a written fall protection plan. There's much more to fall protection than simply providing fall protection systems and equipment to workers (which you obviously must do to maintain compliance with OSHA's Fall Protection Standard). Effective fall protection requires a 'program based' strategy that includes:
established policies and processes for identifying, documenting, controlling fall hazards
systems for reporting hazards and near misses, and communicating fall hazards and hazard controls to affected workers and other personnel
formal policies and standards for inspecting and maintaining fall protection systems
systems for incident reporting, recording, investigation, and corrective action
established policies and processes for fall protection plan evaluation and improvement
OSHA defines requirements for a formal fall protection plan, but such plans are only required under the Fall Protection Standard in specific cases where employees are "engaged in leading edge work, precast concrete erection work, or residential construction work (See § 1926.501(b)(2), (b)(12), and (b)(13)) and employers can demonstrate that it is infeasible or it creates a greater hazard to use conventional fall protection equipment." OSHA's Fall Protection Standard states that fall protection plans required under these circumstances must:
be prepared by a qualified person and developed specifically for the site where work is being performed
be approved, maintained, and updated by a qualified person
be made available to workers and other personnel at the job site
be implemented under the supervision of a competent person
include a written description of other measures that will be taken to reduce or eliminate fall hazards for workers
establish and implement a safety monitoring system in conformance with § 1926.502(h)
establish processes and policies to investigate the circumstances of falls or other incidents to determine if the fall protection plan needs to be changed (e.g., new practices, procedures, or training) and implement those changes to prevent similar types of falls or incidents.
As a best practice, you should use a fall protection plan that includes these elements in ALL cases where fall hazards are present, not just those specific work scenarios where OSHA requires them. In fact, OSHA has provided a model fall protection plan template you can use to help develop your written fall protection plan. You can download the model plan here.
The Foundations for Your Fall Protection Plan
Establishing and implementing a fall protection plan can sound like a burdensome task, but fortunately, you can leverage some of the core EHS management functions that you probably already have in place to help form the foundations for an effective fall protection plan.
They are as follows:
Job Safety Analysis (JSA)
Once you've identified the qualified and competent person(s) who will be responsible for developing and implementing your written fall protection plan, the first step is to assess the fall hazards that may be present in your workplace/work site. A job safety analysis (JSA) is an ideal method for assessing these hazards and documenting them in a systematic fashion. JSAs offer a structured and collaborative format for finding and fixing uncontrolled hazards before they occur. It involves breaking down jobs into their individual tasks or steps and observing employees as they do their jobs, use their tools, and interact with their environments to identify where fall hazards can occur.
Once you identify fall hazards, JSAs enable you to evaluate their respective risk levels using a standardized, qualitative scoring framework. This will help establish the priority level for addressing those hazards through the appropriate corrective actions. In the case of fall hazards, this most commonly means installing fall protection systems (e.g., guardrails, scaffolding, fall arrest systems, etc.) but you should always be mindful of the NIOSH Hierarchy of Controls and design the hazards out of jobs through elimination before relying on engineering controls (e.g., fall protection systems and equipment), administrative and work practice controls (e.g., training, area restrictions, etc.), and personal protective equipment (e.g., fall arrest systems) to protect workers from fall hazards.
Inspections
As part of your fall protection plan, you should also establish a formal inspection program that identifies the qualified/authorized persons responsible for inspecting fall protection systems and equipment. Responsibility for developing and implementing your inspection program should not be limited to supervisors or safety professionals only. Workers who use fall protection equipment should be involved in the inspection program since they have first-hand knowledge of fall hazards and proper use of fall protection equipment. Workers also have an important role in regular inspection and maintenance of fall protection equipment, and ensuring it is safe and effective. In addition to periodic inspections specified by OSHA requirements and manufacturer guidelines, many types of fall protection systems and devices require inspection prior to each shift or each use. Users of fall protection equipment should be knowledgeable in how to properly inspect them and verify the equipment is in-place and functioning properly. Other information you should specify in your inspection program includes:
all fall protection systems and equipment present/in-use at the workplace/job site
applicable inspection criteria based on OSHA requirements, industry standards, manufacturer specifications, etc. including frequency of inspections for each component of fall protection equipment
fall protection equipment service and maintenance records
policies for repairing, replacing, or decommissioning of fall protection systems and equipment
systems and method for performing and documenting inspections, as well as for communicating and evaluating inspection findings
systems and procedures for notifying responsible individuals and workers when inspections must be performed, pass/fail status, and any required corrective actions such as installation, repair, replacement, or decommissioning)
Incident Management
JSAs and inspections play a crucial role in helping to ensure you're doing everything possible to eliminate fall hazards and prevent falls before work begins. You also need to be able to identify, track, and eliminate any fall hazards that are identified during the performance of job tasks, as well as record, report, and investigate any fall-related incidents or injuries that occur. An effective incident management program addresses this need by providing a formal system for workers and supervisors alike to perform hazard identification (HAZID), near-miss reporting, record and investigate workplace injuries, and plan and coordinate corrective actions to control those hazards. Perhaps most importantly, an effective incident management program provides the tools to analyze hazard and incident data and evaluate the effectiveness of fall protection systems and equipment, as well as the fall protection plan, itself.
A Brief Note on Fall Protection Training
As I mentioned earlier, OSHA's Top 10 Most Frequently Cited Standards draws a distinction between citations of its Fall Protection Standard General Requirements and the Fall Protection Standard's Training Requirements, which ranked as the eighth most cited standard (1,778 violations) last year. You should not interpret this separate ranking to mean that fall protection training is somehow separate from an effective and comprehensive fall protection plan. On the contrary, training is a foundational component of your fall protection plans alongside JSAs, inspections, observations, incident management and corrective actions.
Later on in our VelocityEHS Blog series on OSHA's Top 10 Most Frequently Cited Standards, we'll take a closer look at OSHA Fall Protection Standard Training Requirements, and talk specifically about fall protection training violations and training best practices much the same as we have the Fall Protection Standards General Requirements here.
Be sure to follow us on LinkedIn to get the latest updates in our continuing series on OSHA's Top 10 Most Frequently Cited Standards and all our other expert EHS & ESG resources.
Simplify Compliance & Strengthen Workplace Fall Protection with VelocityEHS
In this post, you've learned about the elements of fall protection plans, and how core EHS management functions like JSAs, inspections, observations, incident management and corrective actions form the foundation for effective workplace fall protection plans. The VelocityEHS Safety Solution, part of our Accelerate® Platform, gives EHS professionals like you advanced software tools to manage JSAs, inspections, incidents, observations, corrective actions, and the full range of safety management functions you need to develop, implement, and maintain not just a highly effective fall protection plan, but your entire safety management program. To see for yourself how VelocityEHS can simplify compliance and strengthen workplace fall protection, contact us today to schedule a demo with one of our in-house experts.
Catch up on all OSHA's Top 10 List of Most Frequently Cited Standards Blog Series:
Coming Soon…