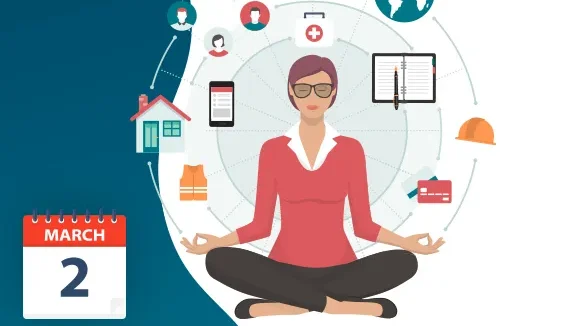 Total Worker Health®:
What You Need to Know Now
The On-Demand Recordings are Now Available! 
Notable researchers and VelocityEHS experts shared insights on how to implement the NIOSH Total Worker Health®* initiatives and reduce workplace injuries during this one-day conference. Register to watch the on-demand recordings of each session.
Watch it on-demand
Changes that affect the world beyond the workplace, such as the COVID-19 pandemic, present new challenges to protecting employee health and safety, including mental health. The NIOSH Total Worker Health® initiative is now more important than ever due to more multi-employer worksites, temporary workers, geographically isolated work, task automation, and growing recognition of diversity, equity and inclusion (DEI). EHS professionals must learn to balance these issues to meet the needs and opportunities of an evolving work landscape.
Total Worker Health®* is a registered trademark of the U.S. Department of Health and Human Services (HHS). Use of this Mark by VelocityEHS does not imply endorsement by HHS, the Centers for Disease Control and Prevention, or the National Institute for Occupational Safety and Health of any particular product, service or enterprise. The views expressed in written conference materials and by the speakers do not necessarily reflect the official policies of the Department of Health and Human Services nor does mention of trade names, commercial practices, or organizations imply endorsement by the U.S. Government.
Thank You for Attending. The Sessions are Now Available On-Demand!
Agenda
9:00 to 9:45 a.m. Eastern
Why Business Leaders Should Care – Register to View
Presenter: Jack Dennerlein, Professor and Interim Chair for the Department of Physical Therapy, Movement and Rehabilitation Sciences, Northeastern University; Adjunct Professor of Ergonomics and Safety, Harvard T.H. Chan School of Public Health
Moderator: Blake McGowan, Director of Ergonomics Research, VelocityEHS
COVID-19 has not only had a physical impact—it has also seriously disrupted mental health. Stress, anxiety, depression, fear, substance abuse and misuse have been on the rise, and more employers are realizing that caring for employees and having empathy not only builds trust, collaboration, and a feeling of security, but also a profitable business.
These leaders are leaning into the NIOSH Total Worker Health® (TWH) initiative. TWH aims to design work policies and programs around employees' physical and psychological well-being.
This concept is not necessarily new and has been the topic of Jack Dennerlein's research for more than three decades. He believes that workers and their health and safety behaviors are a response to the work environment, whether it be organizational or environmental factors. Despite improvements in occupational safety and health over the last several decades, workers continue to suffer work-related illnesses, injuries, and deaths. During this 60-minute discussion, Dennerlein will explain the systems approach, driven by workplace design (tools, programs, policies), to improve human well-being and system performance.
10:00 to 10:45 a.m. Eastern
Why Industrial Hygienists Should Care – Register to View
Presenter: Fred Boelter, CIH, PE, BCEE, FAIHA, Principal, Boelter Risk Sciences and Engineering 
Moderators: Dave Risi, CIH, CSP, Principal Solutions Strategist, VelocityEHS and Kristi Hames, CIH, Senior Solutions Strategist, VelocityEHS
Poor health outcomes are a result of an individual's interaction between physical and social factors. Physical factors include the natural environment (climate and weather), built environments (worksites, schools and recreation settings), and exposures to toxic substances and other physical hazards. Social factors include the availability of resources (education and job opportunities), norms and attitudes (i.e., discrimination and DEI) and socioeconomic conditions.
IH professionals have long controlled physical hazards and exposures such as noise and chemicals in the workplace, but often overlook social or psychosocial factors. A 2018 study found that 40% of an individual's health is determinant of social factors. While those factors weren't important to the workplace historically, they are today.
In 2018, the American Industrial Hygiene Association (AIHA) partnered with NIOSH to advance its Total Worker Health® initiatives and ensure both social and physical factors of exposure are considered when reducing workplace hazards.
During this 45-minute discussion, AIHA task force leader and member Fred Boelter will join Dave Risi and Kristi Hames of VelocityEHS to discuss what AIHA's Total Exposure Health (TEH) is, how it relates to TWH, and how they are aligned to address varying worker exposure in- and outside of work. You will leave with tangible examples you can use today to expand your industrial hygiene program using the TWH framework.
11:00 to 11:30 a.m. Eastern
Psychosocial Stress and MSD Risk: A Q&A with the Researchers – Register to View
Presenter: Mary F. Barbe, Professor, Temple University, Sean Gallagher, PhD, CPE, Professor, Auburn University
Moderator: Rick Barker, Principal Solutions Strategist, VelocityEHS
The most common and addressed physical risk factors that contribute to musculoskeletal disorders (MSDs) are high force, awkward postures and high frequency of work. Increasing the combination of these factors increase the risk of developing a workplace injury. The lesser-known contributor of MSDs is psychosocial stress, age, sex, and obesity. The reason is that these factors are all associated with a slower than normal healing response and may damage musculoskeletal tissues faster resulting in higher MSD risk. During this 30-minute discussion, ergonomics researchers Mary F. Barbe and Sean Gallagher will explain the science behind the body's healing process, how musculoskeletal tissue is impacted by an impaired healing response and how implementing the NIOSH Total Worker Health® initiatives in the workplace can reduce the risk of injuries.
11:45 to 12:15 p.m. Eastern
Integrating Psychosocial Risks into Safety Management – Register to View
Presenter: Phil Molé, EHS & Sustainability Expert, VelocityEHS
EHS professionals looking to incorporate a Total Worker Health (TWH) approach need to get serious about integrating identification and control of psychological risks into their safety management system. Psychosocial risks are sources of anxiety for workers stemming from the workplaces and work arrangements we've given them, and they are often closely tied to traditionally understood safety risks. For example, a 2018 study found that employee-reported levels of mental well-being are positively correlated with understanding of workplace risks and controls, and with levels of resources available for addressing sources of safety risks. The tight connection between psychosocial and other workplace risks will only continue to receive more attention as organizations shift to Environmental and Social Governance (ESG) approaches. 
In this 30-minute session, we'll explore how to expand the focus of your safety management system to address psychosocial risks, using frameworks such as the international occupational health and safety (OHS) standard ISO 45001 and the guidance standard ISO 45003. We'll also offer practical advice on how to address psychosocial risks in several different industry sectors, including general and chemical manufacturing, and how to ensure that all employees and contractors have voices in your management system.