OSHA's Top 10 List of Most Frequently Cited Standards: Fall Protection Training Requirements
10/31/2023 Posted on October 31, 2023 | in Safety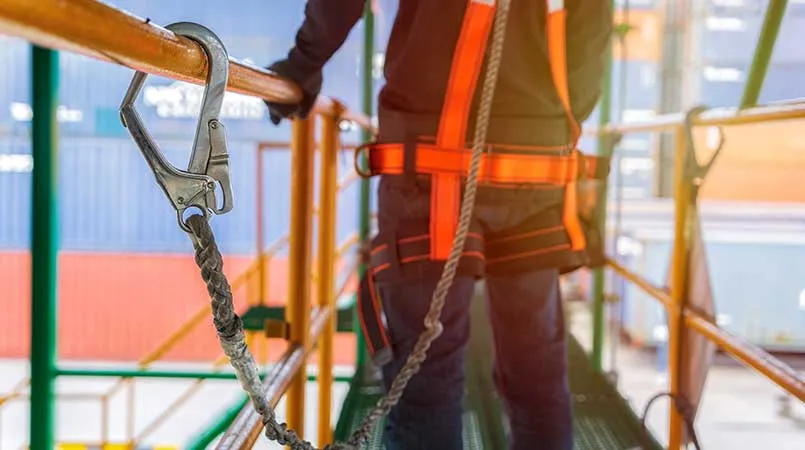 Continuing our digest of OSHA's Top 10 List of Most Frequently Cited Standards, we move on to the fifth most-commonly cited workplace violation – Fall Protection Training Requirements. Among OSHA's many regulations, the Fall Protection Training Standard is of utmost importance, as falls continue to be a leading cause of workplace injuries and fatalities.
A fall protection training requirement seems pretty self-explanatory—it's important to train employees how to work at heights that keep them safe from falling—and seems like it would be pretty straightforward to keep up with the requirements of that training. But with 1556 citations for this standard in 2022, it's important to make sure that we understand the purpose and key requirements of the fall protection training standard, recognize where and how violations happen, and strategize what employers can do to meet this standard and keep their employees safe.
In this blog post, we will delve into the key elements of OSHA's Fall Protection Training Standard and explore why it is essential for employers and employees to adhere to these guidelines.
Understanding the Fall Protection Training Standard
OSHA's Fall Protection Training Standard, found in 29 CFR 1926.503, establishes requirements for training employees who may be exposed to fall hazards. The standard applies to numerous industries, including construction, general industry, and maritime operations. It focuses on equipping workers with the knowledge and skills necessary to identify fall hazards, implement preventive measures, and properly use fall protection systems.
Identifying Fall Hazards
Before being able to address any hazards, they need to be identified.
Employers are required to assess their work environments to identify areas where fall hazards exist, such as unprotected edges, holes, or elevated surfaces, and create training materials to teach employees how to stay safe working amongst those hazards. Training programs should emphasize hazard recognition such as these, encouraging employees to be vigilant and proactive in identifying potential fall hazards.
Prevention and Protection Measures
The Fall Protection Training Standard emphasizes the importance of implementing preventive measures to eliminate or reduce fall hazards. This may involve engineering controls such as guardrails, safety nets, or personal fall arrest systems. Training programs should cover the proper use, inspection, and maintenance of these protective systems. Employees should also be educated on the significance of using personal protective equipment (PPE), including harnesses, lanyards, and anchor points.
Training Requirements
OSHA's Fall Protection Training Standard outlines specific training requirements that employers must fulfill. The standard mandates that employers are to provide training to any employee exposed to fall hazards. This includes both initial training for newly hired workers and refresher training to ensure ongoing competence. Training programs must cover topics such as recognizing fall hazards, understanding fall protection systems, and emergency procedures in case of a fall.
OSHA also requires that workers need to be trained in job hazards in a language that they can understand. This aspect of the standard could be one of the sources of some citations—if an employer has fall protection training available in two of three common languages for the location, this would count as a violation.
The OSHA Fall Protection Training Requirement Standard States:
The employer shall provide a training program for each employee who might be exposed to fall hazards. The program shall enable each employee to recognize the hazards of falling and shall train each employee in the procedures to be followed in order to minimize these hazards.
The employer shall assure that each employee has been trained, as necessary, by a competent person qualified in the following areas:
The nature of fall hazards in the work area
The correct procedures for erecting, maintaining, disassembling, and inspecting the fall protection systems to be used
The use and operation of guardrail systems, personal fall arrest systems, safety net systems, warning line systems, safety monitoring systems, controlled access zones, and other protection to be used
The role of each employee in the safety monitoring system when this system is used
The limitations on the use of mechanical equipment during the performance of roofing work on low-sloped roofs
The correct procedures for the handling and storing of equipment and materials and the erection of overhead protection
The role of employees in fall protection plans
The standard also requires a certification of training, meaning that:
The employer shall verify compliance by preparing a written certification record. The written certification record shall contain the name or other identity of the employee trained, the date(s) of the training, and the signature of the person who conducted the training or the signature of the employer.
If the employer implements training conducted by another employer or completed prior to the effective date of this section, the certification record shall indicate the date the employer determined the prior training was adequate rather than the date of actual training. The latest training certification shall be maintained.
When the employer has reason to believe that any affected employee who's been trained previously does not have the understanding and skill required, the employer shall retrain each such employee. Circumstances where retraining is required include, but are not limited to, situations where:
Changes in the workplace render previous training obsolete.
Changes in the types of fall protection systems or equipment to be used render previous training obsolete.
Inadequacies in an affected employee's knowledge or use of fall protection systems or equipment indicate that the employee has not retained the requisite understanding or skill.
The Importance of Compliance
Compliance with OSHA's Fall Protection Training Standard is crucial for several reasons. Firstly, it helps to prevent injuries and fatalities caused by falls, protecting workers from harm and reducing healthcare costs for employers.
Secondly, compliance demonstrates an employer's commitment to workplace safety, fostering a positive safety culture and boosting employee morale. Employees are safer when compliance is met, but they feel safer when they see the efforts their organization makes to keep them safe.
The Costly Concerns of Citations
Finally, adherence to the standard helps organizations avoid penalties and legal consequences that may arise from non-compliance. With the average cost of an OSHA violation being $15,625—which is a potential $24,312,500 in fees in the last year alone—organizations could save literal millions of dollars and use that money elsewhere for their employees. Most directly, they could use that money to bulk up their fall protection training.
This post is meant to be an overview of OSHA Fall Protection Training Standard, sharing key elements that can help organizations stay in compliance with the standard. If you're looking for more details and information, please refer to the official regulation.
Let VelocityEHS Help!
Safety is just one aspect of cultivating a work culture where people feel they matter. The VelocityEHS Accelerate® Platform includes a wide range of innovative software solutions and built-in expertise to meet your toughest EHS and ESG challenges. Talk to one of our experts and find out more about how we can help make it easier to manage, maintain, and ensure your long-term success.
Catch up on all OSHA's Top 10 List of Most Frequently Cited Standards Blog Series:
Coming Soon…