Product Review: Arm Chair Keyboard Tray
10/07/2014 Posted on October 7, 2014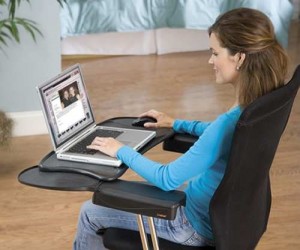 Product Name: Mobo Keyboard Tray
Cost: $79.95
Description: A computer keyboard tray that attaches to the armrest of an office chair.
Ergonomic Benefits and Features:
Encourages neutral posture for the arms while keying when placed at the appropriate height
Separate mouse pad area provides space for multiple tasks
Size is 22″x12-1/2″ and is slightly arched away from the user
Potential Limitations:
Height of tray relies on adjustable height of arm rests and proper adjustment by user
May cause extended arm reaches and contact stress due to mouse pad surface position, height and relative handedness of user
May cause increased distance from screen for monitor users affecting visibility and reach
May cause flexed neck postures for laptop/tablet users due to height of viewing area
May cause decreased mobility; limits easy access in and out of chair
Plastic hinges and mechanisms may not be durable for long term or heavy use
Applications:
Can be used to support light objects (recommended for 15-20 lbs. max), such as laptops, tablets, keyboards, etc.
Humantech does not endorse any of the products or companies featured in the reviews. All images are property of the vendor and used for illustrative reference only.