3 Creative Home Office Solutions
08/04/2020 Posted on August 4, 2020 | in Ergonomics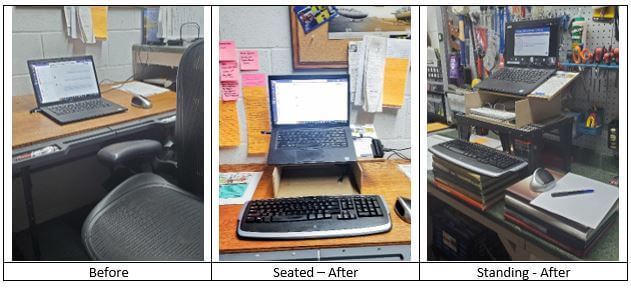 It's been five months since most of us have been working from home (yep, it's been that long). Most business leaders are starting to accept the fact that this may not be short-term. As a result, more of our customers are asking, "How can I make my home office more suitable?" To assist our clients during these tough times, we have provided ongoing free work-from-home resources. What's impressed me most is seeing how creative people have gotten when setting up an ergonomic home office using items they already have.
Creative Home Office Solution #1
Our long-time customer Roger Tynes (Goodyear Tire and Rubber) set up his workstation on an old drawing table in his basement. Since it was too low, he used scrap wood to raise his hand-working height. This enabled him to maintain elbow angles close to 90 degrees while seated. What's more, he built a laptop stand from repurposed plywood packaging and made sure it was wide enough for his phone and USB hub. He even created a document storage bin underneath! This simple, yet well executed, solution cost nothing and rivals office equipment sold in stores.
Roger wouldn't be the ergonomist that he is without also having a standing workstation, so he used his workbench. A step stool raised the height of his monitor and he placed textbooks under the keyboard and mouse. Nothing fancy, but it works.
Creative Home Office Solution #2
People are working in all sorts of spaces these days. Another creative solution came from a colleague who has been hunkering down in a closet to keep the kids and noise out! Luckily, it's wide enough to accommodate a makeshift desk (a folding outdoor table). He used a box to raise the monitor to eye level and borrowed a chair from the office. He completed the workstation by adding an external keyboard, mouse, and headphones for all the video calls. That's a relatively inexpensive setup, but it does the trick.
If your company is giving you a stipend to outfit your new workspace but you still want to be frugal, consider purchasing clearance or refurbished items. I accumulated my adjustable equipment by shopping during sales, and I have a pretty solid home-office setup.
Creative Home Office Solution #3
My electric sit-stand desk allows me to alternate between sitting and standing work postures throughout the day, the external monitor keeps my neck posture neutral, and an external webcam keeps those on the other end of my video chats happy that they don't have to look up my nose (we've all seen it!). I've also installed an LED light and pointed it at the wall behind my workstation to provide indirect lighting while working.
There are ways to improve your home office ergonomics. All it takes is a little creativity and know-how. For more tips, download the guide Home Office Ergonomics: Equipment for Every Budget and continue to check out our growing Work-from-Home Toolbox.
Special thanks to Roger Tynes, Global Ergonomics System & Special Project Manager, The Goodyear Tire & Rubber Company, for being the motivation behind this blog post!