USP and Other Resources to Protect Healthcare Workers During the COVID-19 Pandemic
04/02/2020 Posted on April 2, 2020 | in Safety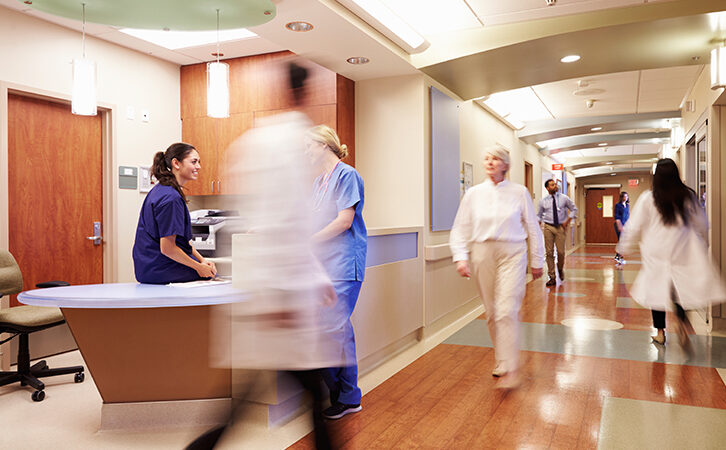 Those of us, myself included, who are fortunate enough to not only still be working, but working from the comfort and safety of home, should remember the sacrifices made by nurses, doctors and other healthcare professions whose duty to patients puts them in harm's way.
There are already hundreds of thousands of confirmed cases of COVID-19 worldwide, and as the pandemic continues, it places unprecedented demands on medical professionals. Health care systems are beginning to roll out plans to redeploy specialists who don't typically treat infectious diseases, or to bring retired health care professionals back into the field. There are also plans to establish temporary hospitals and testing facilities. Health care professionals everywhere are working long, grueling hours on the front lines, risking exposure to the SARS CoV-2 virus that causes COVID-19, in addition to the day-to-day risks they've always encountered.
We should be careful not to compound risks by losing focus on the full range of risks facing healthcare workers, including potential exposure to hazardous drugs (HDs).
Let's take a look at some of the resources we can use to protect healthcare workers during this unprecedented and challenging time.
USP Efforts
United States Pharmacopeia (USP) is currently working on multiple fronts to support the public health response to the global COVID-19 pandemic. They are facilitating access to medicines in the global supply chain for use in treating symptoms of COVID-19, supporting development of advanced pharmaceutical manufacturing techniques, and working with developers of vaccines.
USP has also published two recent guidance documents to help healthcare workers during the COVID-19 pandemic:
Check back at USP's site occasionally for additional updates and resources as the agency makes them available.
USP <800>
Even under "normal" conditions, health care workers risk exposure to HDs during the receipt, transport, manipulation, and administration of drugs. Conditions right now are far from normal, with a huge influx of new patients seeking medical interventions, including drugs to help mitigate the symptoms of COVID-19. We need to be even more mindful than usual right now to properly identify and control risks associated with HDs at our facilities.
The National Institute of Occupational Health and Safety (NIOSH) defines a drug as an HD if it exhibits one or more of the following characteristics in humans or animals:
carcinogenicity
teratogenicity (developmental toxicity)
reproductive toxicity
organ toxicity at low doses
genotoxicity
structure and toxicity that mimics existing hazardous drugs
While NIOSH has not issued a new edition of its full list since 2016, they have published a number of notices since 2016 on their HD page regarding drugs they consider to be added or removed from the list.
USP specifically developed its <800> standard to protect healthcare workers from risks associated with HDs. The USP <800> standard became official on December 1, 2019 and requires that employers at facilities such as hospitals, pharmacies, clinics, healthcare offices, and veterinary practices to put protective measures in place, including:
Maintaining an inventory of hazardous drugs
Following appropriate containment measures within the standard, or performing assessments of risk (AOR) and following alternate containment strategies where allowed
Responsibilities of personnel who handle hazardous drugs
Facilities and engineering controls
Environmental quality and controls (optional, but recommended measures such as wipe sampling)
Personal protective equipment (PPE)
Hazard communication
Personnel training
Considerations for job tasks such as receiving, compounding or administering
Considerations for labeling, storage, packaging, transport, and disposal
Dispensing final dosage forms
Procedures for deactivating, decontaminating, cleaning, and disinfecting
Spill control measures
Documentation and standard operating procedures
Medical surveillance for workers who handle HDs (optional)
The USP <800> standard is now in official use as an enforcement mechanism for regulatory agencies with oversight over healthcare institutions. While many states have chosen to directly adopt USP <800> standards into their regulations for handling HDs, the specific requirements and enforcement infrastructure varies from state-to-state. In states that have adopted USP <800> standards, the state board of pharmacy (SBOP) is responsible for inspecting workplaces and issuing citations for non-compliance. In others, the state's public health department is responsible for enforcement.
With USP <800> coming into force such a short time prior to the beginning of global COVID-19 pandemic, which has placed new urgency and even greater demands on health care providers. It's quite possible that some institutions may still have gaps in their HD management systems, and do not fully meet the requirements of USP <800>. Employers at those locations may be finding that anxiety related to COVID-19 is diverting their focus away from USP <800> compliance, but in the safety world, we don't get many ideal situations anyway.
HDs & OSHA HazCom
It is important to note that, despite its mission of enforcing workplace health and safety laws, U.S. federal OSHA has no role in enforcement of USP <800> standards. However, we should also remember that OSHA considers NIOSH HDs to be hazardous chemicals subject to the requirements of the HazCom Standard. The only exceptions, as stated within 1910.1200 (b)(6)(vii), occur when the drug is in solid, final form for direct administration to the patient (e.g., tablets or pills), packaged by the chemical manufacturer for sale to consumers in a retail establishment, or intended for personal consumption by employees while in the workplace.
An employer at a facility that handles HDs subject to the HazCom Standard would need to maintain a written HazCom Plan and an up-to-date chemical inventory list. They would also need to maintain a library of safety data sheets (SDSs) for those HDs, provide workers with access to SDSs during their work shifts, ensure HD containers include proper labels, and provide HazCom training to employees.
For more information on USP <800>, check out our on-demand webinar which covers HazCom requirements for HDs, as well as the specific requirements under the USP <800> standard itself.
Other Resources
OSHA has issued its Guidance for Preparing Workers for COVID-19, which is heavily oriented toward workplaces in the healthcare industry, and gives employers information about assessing and controlling exposure risks.
OSHA also maintains an Additional Resources page compiling COVID-19 information across multiple agencies, including:
VelocityEHS has also compiled our COVID-19 Resources Page which gives you access to our SDS e-binder for disinfectants recognized by EPA as effective against SARS CoV-2, an on-demand recording of our recent COVID-19 webinar, and a COVID-19 FAQ to help answer your most pressing questions.
Healthcare workers are making great sacrifices on behalf of all of us during the COVID-19 pandemic. The least we can do is to use all of the resources available to us to protect their safety.
Let VelocityEHS Help!
Our chemical management software and supplemental Emergency Response Services can help you manage your HD list and meet requirements under the HazCom Standard to keep healthcare workers safe. Contact us anytime to learn more.
From all of us at VelocityEHS, we wish you safety and peace during these stressful times.