Two New OSHA Bulletins Focus on Temporary Worker Safety
08/22/2018 Posted on August 22, 2018 | in Operational Risk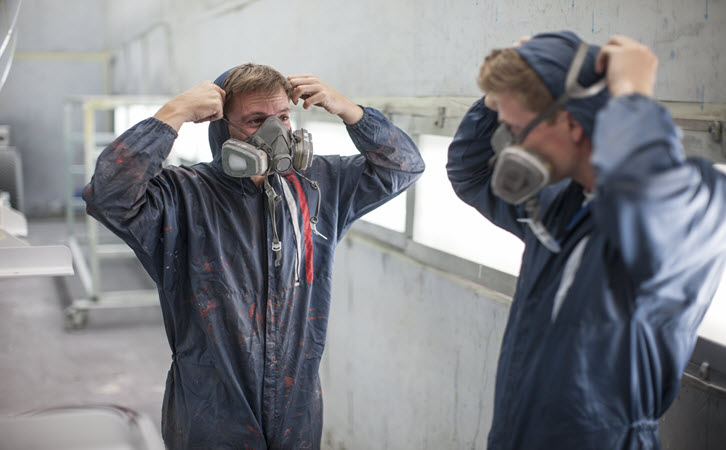 OSHA recently issued two new guidance bulletins developed under the agency's Temporary Worker Initiative (TWI). While one of the bulletins addresses Respiratory Protection and the other addresses Hearing Conservation, both focus on the need to ensure proper protection and training of temporary workers, and on the joint responsibilities of staffing agencies and host employers. These are the eighth and ninth TWI bulletins issued by OSHA since 2014, but the first since 2016.
Let's take a look at the bulletins and identify some take-aways for temp worker safety.
Respiratory Protection
TWI Bulletin Number 8, on "Respiratory Protection," begins with a summary of employer requirements under OSHA's Respiratory Protection Standard. OSHA requires employers to identify and evaluate potential respiratory hazards in the workplace, including low oxygen environments, dusts, and chemical vapors and fumes.
To properly evaluate the need for respiratory protection, employers must maintain an up-to-date chemical inventory and be familiar with the hazards and established occupational exposure limits of chemicals used in the workplace. OSHA states that employers must follow the hierarchy of controls to address hazards, as shown below.
Controls are ordered from most effective to least effective from the top of the pyramid to the bottom. Employers need to work their way down the pyramid from top to bottom, assessing the feasibility of controls at each level, and must only provide personal protective equipment (PPE) if the use of those controls at higher levels of the pyramid were not effective in reducing employee exposures below established exposure limits.
If employers do need to provide PPE to their employees due to respiratory hazards, they must develop and implement a respiratory protection program that includes, but is not limited to, the following elements:
Written, site-specific respiratory protection program
Selection of appropriate respirators
Medical evaluations
Respirator fit testing
Proper use and maintenance of respirators
Employee training
Evaluation of the program
Employers should update the program whenever conditions involving use of respirators change, such as when new engineering controls are installed or new chemical exposures are introduced.
Noise Exposure and Hearing Conservation
The second new bulletin, TWI Bulletin Number 9, is on "Noise Exposure and Hearing Conservation." The bulletin recaps the hazards of occupational noise exposure, including changes in a worker's hearing thresholds relative to a baseline audiogram, otherwise referred to as a standard threshold shift (STS).
To reduce the potential for STSs and other harmful effects on hearing, OSHA sets enforceable limits on noise exposure in the workplace. There is a PEL of 90 dBA measured as an 8-hour time-weighted average (TWA) concentration, with the requirement to reduce time of exposure by half for every 5 dBA increase in noise exposure – in other words, if noise concentrations were 95 dBA, workers could be exposed to that level of noise for no more than 4 hours.
Similar to the case for other OSHA standards (including respiratory protection as discussed above), OSHA directs employers to reduce exposure by following the hierarchy of controls. If doing so does not reduce noise levels below an action level (AL) of 85 dBA in general industry or 90 dBA in construction, employers must develop a written Hearing Conservation Program (HCP) that includes discussion of:
The details of the noise monitoring program
Notification of employees of noise monitoring results
Confirmation that employees have the right to observe noise monitoring
An audiometric testing program, including a baseline audiogram and annual testing
Employee training
Access to information and resources
Maintaining accurate records
Employers should update their HCP whenever changes occur that affect occupational noise exposure, including installation of new equipment that increases the overall noise exposure level within the workplace.
Temp Worker Obligations
Both of OSHA's new bulletins ultimately put the focus on temporary workers (including contractors), and on strategies to ensure that employers protect these workers from exposure to hazards. This focus is in keeping with the general purpose of the TWI. As OSHA states in its policy background memorandum, they launched the TWI in 2013 because of "many reports of temporary workers suffering serious or fatal injuries, some in their first days on the job." OSHA also notes that numerous studies have shown that new workers are at much higher risk of work-related injuries, and because of the nature of temporary work, temporary workers will likely be considered as "new workers" multiple times within any given year.
In both of the new TWI bulletins, OSHA stresses that the host employer and staffing agency are jointly responsible for ensuring that temp workers have adequate protection and training. According to OSHA, the responsibilities generally break down as follows:
Host employer: The employer at the host worksite usually will have the primary responsibility for identifying the hazards present in the workplace, implementing controls and developing and maintaining the required programs, such as Respiratory Protection or Hearing Conservation programs. This is because the host employer will generally have the most familiarity with the processes, chemicals or equipment associated with hazards, and would be in the best position to develop and implement the programs, authorize the controls to be used and oversee workplace conditions.
Staffing agency/Contractor: The firm providing the labor to the host worksite has a responsibility to become familiar with any programs or controls that the host employer has in place. OSHA maintains that they should take "reasonable steps" to ensure that the host employer has the required elements, including a Respiratory Protection or Hearing Conservation Program, in place prior to their workers beginning work there, and to inform their employees of the hazards and controls in place as much as possible.
Joint responsibilities: There are some regulatory obligations that may be best met by either the host employer or the staffing agency/contractor, depending on the details. For instance, OSHA's noise exposure standard states that employers must establish a valid baseline audiogram with 6 months of an employee's first exposure at or above the AL, or within one year if a mobile testing van is used. In cases where temporary workers may have multiple work assignments for different employers within a single year, staffing agencies/contractors would be better positioned to make sure that the audiometric testing happens according to schedule.
This point illustrates the general advice that OSHA has often given related to multi-employer worksites, which is that each employer should address the risks related to the aspects of the job they are most familiar with. For instance, if a staffing agency repeatedly performs certain operations for a variety of host employers, they would be most familiar with the chemicals, equipment, noise and respiratory hazards associated with the tasks. On the other hand, host employers would be most familiar with the specific hazards of their own worksites.
The key, of course, is good communication. The various employers at a worksite should stay connected to make sure everyone understands their joint responsibilities for keeping temp workers safe, and to avoid assumptions that "someone else is doing it," which often creates gaps in risk analysis in training. Improved planning and communication has the additional benefit of making the workplace safer for all workers.
Let VelocityEHS Help!
By issuing these two new bulletins, OSHA has demonstrated their continued concern about safety risks for temporary workers. Fortunately, VelocityEHS can help streamline your EHS management systems so that you can keep your entire workforce safe, including temporary workers.
Our Risk Analysis software makes it easy to identify risks from various hazards (including respiratory hazards and noise exposure), to designate controls, and to make the results of the risk analysis visible to your entire workforce. Our Incident Management solution provides you with an easy-to-use hazard identification system that allows you and your employees to quickly document hazards and instantly assign corrective actions. In addition, the VelocityEHS Mobile App lets you perform hazard IDs right from your smartphone — anywhere, anytime, even when you're offline!
To get respiratory protection right, you need to know what chemicals are in your inventory and understand the exposure hazards associated with them. Our MSDSonline SDS & Chemical management solutions give you the visibility you need to improve your hazard communication practices and properly assess chemical risks, including established exposure limits.
Training a large workforce that includes temporary workers can be a difficult and time-consuming process, but it doesn't have to be. Our Training Management solution gives you the ability to quickly schedule, coordinate, evaluate and document workplace safety training for each of your employees across your entire enterprise with one seamless, centralized system, while our On-Demand Training solution gives your employees access to nearly 100 expert-reviewed training courses across a wide variety of EHS topics to provide them with the knowledge and skills they need to work safely.
With VelocityEHS, you'll be better prepared to fulfill the expectations of OSHA's TWI, and safeguard the safety and health of all of your workers.