Preparing for the Unexpected: Tips for Managing Plant Disasters
08/24/2017 Posted on August 24, 2017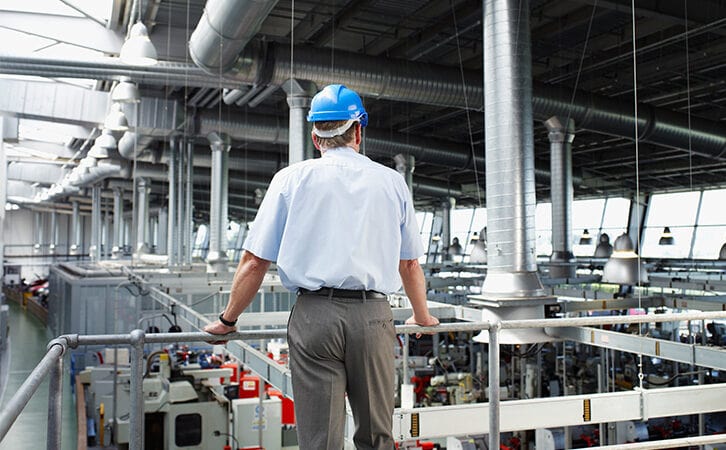 Plant disasters and other workplace-related emergencies can happen anywhere, at any time. While it's impossible to fully avoid some accidents, preparation is key and having an actionable plan in place not only helps simplify response, but can also prevent further issues from occurring.
In the recent article, "Seven Tips for Managing Plant Disasters," in Industrial Maintenance & Plant Operation, VelocityEHS experts discuss the increasingly vital role technology plays during all incident stages. Below, we review some best practice tips for managing plant disasters, and how EHS technology can help at each step.
Before an Incident Occurs – Understand the Risks
A well-developed emergency action plan (EAP) that lays out employer and worker actions during an incident, proper responses to different types of emergencies, and addresses facility layout specifics such as structural features and emergency systems is a critical proactive measure. This plan should be viewed as a living document and be updated whenever new hazards are identified. Our Risk Analysis solution can facilitate development of an EAP by providing a centralized platform to assess risks throughout your organization and develop and track corrective actions to reduce the potential for serious incidents. This includes performance of Job Safety Analyses (JSAs) for both routine and non-routine tasks to identify and mitigate safety and environmental risks associated with job tasks. You should ensure that all employees are trained on the JSAs and understand how to use them as resources to help them work safely. Our system runs off a centralized platform available across multiple locations via the cloud, giving workers better access to the JSAs' hazard and preventive information to work more safely and efficiently.
The VelocityEHS Incident Management product also has a role to play in pro-active risk management by allowing employers to more easily identify potential hazards and maintain detailed records of incidents, near-misses and other workplace events within a single, cloud-based system. By enabling employees to record and report hazards as they occur with greater detail from the palm of their hand, the VelocityEHS Mobile App – available for free to Incident Management customers – provides an even more accurate account of workplace risks.
In addition to preparing a comprehensive EAP, it's also important to train employees on their roles and responsibilities during an emergency. Our Training Management solution works seamlessly to quickly track and report on employee training requirements across your organization, while our On-Demand Training courses make it easier to build and administer modular courses for workers to complete on their own schedules.
Lastly, ensure you understand the chemical hazards in your facility and communicate any potential dangers to local first responders. Several high-profile incidents, including the West, Texas Fertilizer Plant Explosion and container storage explosion in Tianjin, China, highlight the importance of sharing hazardous chemical information with key stakeholders and emergency responders. The MSDSonline Plan1 First Responder Share Service streamlines this process to facilitate the sharing of accurate, site-based hazardous chemical inventory information directly with area emergency responders, including critical diagrams that map chemical storage locations onto facility floor plans.
During the Emergency – Focus on Worker Safety
Time is of the essence when a workplace disaster occurs, so it's important to quickly identify employees in need of immediate medical attention, make sure first responders know exactly where to go to reach them, and remove any path obstructions to the injured. Having quick and easy access to safety data sheets (SDSs) is critical when hazardous chemicals are involved in the incident. Robust software like the MSDSonline Chemical Management product provides users with more immediate access to electronic SDS libraries and can locate first-aid measures listed on these documents so medical responders know exactly what treatments are necessary and safe.
Once the immediate needs of injured employees have been addressed, you must next work to secure the worksite to prevent additional incidents from occurring. For instance, in the event of a chemical spill use physical barriers to control the spreading and deploy emergency communications to prevent employees from going into the area. Securing the worksite not only reduces additional risks, but also preserves evidence needed later during the incident investigation process.
The MSDSonline Chemical Spill Response & Reporting service eases spill response, offering immediate access to online tools and information for notifying emergency responders, finding qualified cleanup contractors in your area, and completing all the required incident reports to keep you in compliance.
After the Accident: Mitigating Further Issues from Occurring
The first step following an incident is to launch the reporting and notification process. Depending on the scale of the incident, there's a number of reporting requirements that must be enacted in a limited amount of time. For instance, OSHA must be notified within eight hours of a fatality, and within 24 hours of any work-related hospitalizations, amputations, or eye losses. Failure to notify all proper authorities of required incidents in a timely manner can result in penalties and fines.
Having the tools to quickly and comprehensively complete any necessary reports is critical. The VelocityEHS Incident Management product can help employers identify what reports are required based on the type of incident, and aid with correctly completing the reporting form.
Next, review your safety procedures and make any necessary improvements by looking at and amending the initial cause – or causes – of the incident, and examining how listed actions were carried out by all parties involved. Don't forget to specifically review the JSAs applicable to incident to identify any weaknesses in identifying risks that may have contributed to the incident, and to revise and initiate new correction actions when needed. This is another area where the VelocityEHS Risk Analysis solution is useful by simplifying the management and review of JSAs, and helping to capture and manage corrective actions associated with hazard identification.
Let VelocityEHS Help
While you can't prevent every incident that might arise, the VelocityEHS Platform and full-suite of EHS products helps you more cost-effectively gain better transparency into the workplace hazards that exists, better manage emergencies and corrective actions, streamline compliance, and ultimately improve the safety and well being of your employees. For more information about how VelocityEHS can help you reach your EHS goals faster, visit our solutions page or call us at 1.866.919.7922.
For the latest manufacturing product technology innovations, process improvement strategies, and best practices, visit www.IMPOmag.com.