ARCHIVED — New MSDSonline Chemical Mapping Feature Allows Businesses to Easily See and Manage their Chemical Inventory
07/14/2014 Posted on July 14, 2014 | in ESG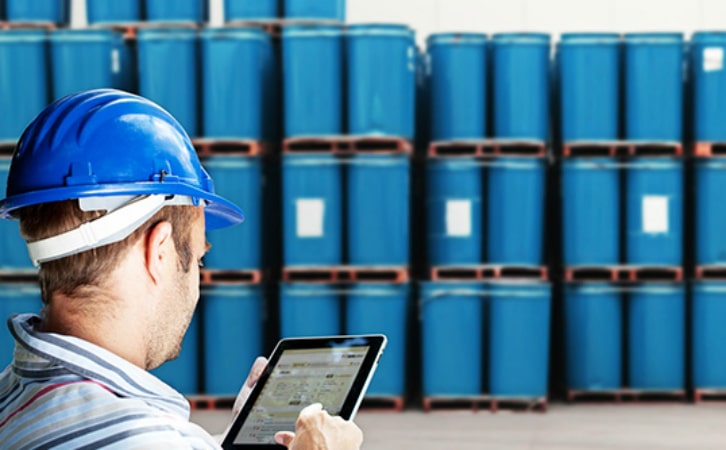 CHICAGO (July 14, 2014) – MSDSonline, the leading innovator of sustainable cloud-based EHS solutions, today announced an important advancement in chemical inventory management with the launch of its new chemical mapping feature. Automatically available to subscribers of MSDSonline's advanced chemical management solutions, the feature gives users a visual representation of their workplace chemicals, and drag and drop controls convert facility floor plans into interactive maps. For the first time customers can now instantly identify, move, and manage their chemical inventories on image maps of their facilities.
​
"We think chemical mapping is a game changer when it comes to understanding workplace chemical environments," said MSDSonline's VP of Strategy & Product Development, Mike Flynn. "Our use of the web continues to be more and more visually based and now our customers have the tools that allow their employees to not just know what hazardous chemicals they have within the workplace, but more importantly see where those chemicals are specifically located."
MSDSonline customers with either an HQ Account or HQ RegXR Account can log into their accounts and upload site maps of their facilities into the system. Numerous maps can be added to an account for multiple facilities, floors, or departments. Once uploaded, customers can then drag and drop container icons representing their specific chemical products onto the map. Completed maps can be viewed from the customer's personal chemical dashboard, called an eBinder, and use it to quickly and accurately track and manage chemicals throughout their facility.
​
Regarding the benefits to customers, Flynn added, "Our mapping enhancement lets users identify clusters of hazardous material, provide real-time visual representation of dangerous chemicals for first responders, and assist with disaster preparedness."
The mapping enhancement joins a host of other features that come standard in MSDSonline's HQ and HQ RegXR chemical management solutions. Those features include:
•    Access to the industry leading database of safety data sheets, with millions of documents in a variety of regulatory formats (e.g. OSHA, WHMIS, GHS, etc.)
•    Detailed, multi-level container location tracking and  reconciliation
•    Custom chemical label and barcode creation (OSHA, WHMIS, GHS)
•    Employee Right-to-Know MSDS search interface
•    Flagging and management of banned chemicals
•    Advanced environmental and regulatory reporting
For more information or to sign up for a demo of MSDSonline's new mapping feature and suite of mobile-enabled chemical management solutions, visit www.MSDSonline.com or call toll-free 1-888-362-2007 from the United States and Canada.
About MSDSonline
Founded in 1996 and based in Chicago, MSDSonline is a leading provider of cloud-based EH&S compliance solutions, offering products and services for managing safety data sheets, reporting workplace incidents, training employees and administering other critical EH&S information. The company's mission is to provide sustainable solutions that help customers improve employee safety, streamline compliance recordkeeping and reduce potential exposures to workplace hazards and risks. MSDSonline has been recognized for the last six years on Inc. magazine's list of America's 5,000 fastest-growing private companies. More information is available online at www.MSDSonline.com and on the official company blog at www.MSDSonline.com/blog. MSDSonline is an ICG (Nasdaq: ICGE) company.